By Great White Snark | March 22, 2011
The Spider-Man musical gets a lot of the attention these days, but it's not the only terrible thing featuring Spidey's hapless mug.
6) The Spider-Man Tramp Stamp (P.S. WTF?)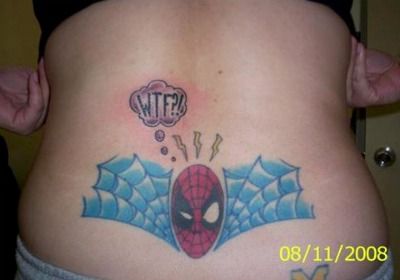 Source: Ugliest Tattoos
Nice job. Now, every time someone looks at you from behind, they're going to wonder why Spider-Man's spider-sense is tingling and he's asking himself "WTF?" while he's in the immediate vicinity of a potentially vaporous region of your body.
This is a pretty good prank; I'm just wondering why you decided to play it on yourself.
Topics: Comics, Tattoos | 3 Comments »
By Great White Snark | March 13, 2011
Let's face it: even a "good" Cthulhu cake can be bad. When your subject is the dreaded, hideous, and many-tentacled high priest to the Great Old Ones, it's no coincidence that a confectionery representation would be reminiscent of a steaming pile of angry fecal matter.
A picture says a thousand words. In this case, most of those words are "retch" and "vomit".
5) The "Angry Tentacles" Cthulhu Cake
Check out those tentacles, with their boiling pustules of Elder God rage.
…or they're Rick Krispie treats. But I'm pretty sure it's the former.
Topics: Cakes | 7 Comments »
By Great White Snark | March 6, 2011
Apparently putting together a costume made almost entirely of brown fur is more complicated than you'd think.
7) The Hairy-Chested Chewbacca Costume
Many bathmats died to bring us this costume.
Topics: Costumes, Star Wars | 5 Comments »
By Great White Snark | March 2, 2011
Good news, people! You can finally quit your despairing and general verklempting, because I'm back from hiatus.
My absence from the blog was due to my starting a new long-term occupational engagement which requires the full attention of all of my considerable resources, including my devastating handsomeness, fresh scent, and keen smartiness.
So what does this mean for the blog? Well, first, I shan't be posting multiple, short posts per day any longer. However! I will devote hours of my weekends–when the batteries powering my physical attractiveness must be replenished–to generating longer-form content like The Top Twelve Awful Twilight Tattoos, The Top Five Green Lantern Costumes Gone Wrong, and The Top Five Awful R2-D2 Cakes. I'll release this content over the course of the work week; you can expect at least one or two of these lists per week, plus some other goodies as I have time, energy, and the desire to placate you.
Anyway, I'm excited about this evolution of the blog, and am glad you are joining me for it. I'd love to hear from you in the comments with your thoughts. Especially if your thoughts are dominated by adoration and a compelling desire to send me money. (U.S. DOLLARS, ONLY!)
And remember… I love you. For loving me.
Topics: Updates | 5 Comments »
By Great White Snark | February 28, 2011
While there are certainly a frightening amount of fanboys who have permanently scarred their chests with Batman symbol tattoos, you'd be surprised how people can embarrass themselves with Batman symbol tattoos on other parts of their bodies.
Or maybe you wouldn't be surprised. I hear cynicism is contagious, and I've been drinking out of your mug when you weren't looking.
8) The These-Are-Definitely-Not-Batman's-Pecs Batman Symbol Chest Tattoo
"Bird-chested" and "Batman" aren't typically two things that go together.
Topics: Batman, Tattoos | 7 Comments »
By Great White Snark | January 31, 2011
I'm traveling for work, so expect slower posting over the next week.
And by "slower," I mean, "possibly nonexistent."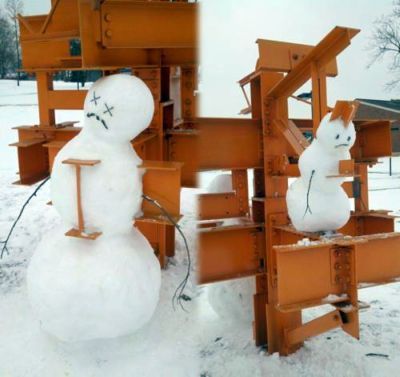 But, look! Here's a picture of Calvin and Hobbes-inspired snowmen impaled on the Ellifrett Structure at the University of Wyoming. Now your simple mind has been distracted from its previously-distraught state by an object of delight. Too easy.
Anyway. Keep an eye on the GWS Twitter profile or GWS Facebook Page, as I'll be more likely to post there in short bursts during my travels.
Topics: Updates | 6 Comments »
« Previous Entries