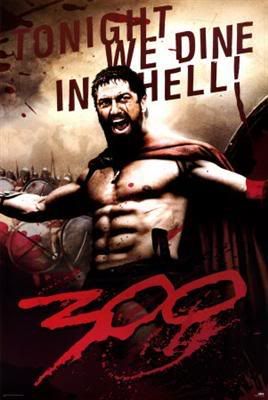 This morning, a friend pointed me to what she considered to be an unfavorable review of 300 from the New York Times. A snippet:
A bombastic spectacle of honor and betrayal, "300" is about as violent as "Apocalypto" and twice as stupid.
Here's the message my brain received when I read that passage:
A super-awesome, bombastic spectacle of violence, honor, and betrayal… much better than Apocalypto, which, along with the Jew-hater Mel Gibson, is double-stupid.
Metacritic.com has aggregated all reviews of 300 and has come up with an overall score of 53 (out of 100). Now, usually I scoff at the notion of seeing any film with a score lower than 60 (because I'm a snob, yo), but clearly we're in a situation of reviewers having severely-misguided expectations about what this movie is. It's adapted directly from a comic book, people! (Ok, from a graphic novel, but that's just a name to describe a really long comic book.)
From The Washington Post reviewer:
It's kind of a ghastly hoot, and while I suppose it does no harm, it also contributes nothing. It's a guilty unpleasantness.
Jesus, you want contributions? This ain't The English Patient or An Inconvenient Truth… it's a comic book that's come-to-life, dude! And no one should feel guilty about enjoying seeing three-hundred bad-ass Spartans take on the million-strong Persian army in a heretofore unseen spectacle of breaking shit. And by that measure, it's obviously scored a 100, based on the reviews.
Now, I'm not a fan of mindless violence. I grew weary of Jean-Claude Van Damme movies long, long ago. But spectacular violence delivered with spectacular cinematography, a classic story, genuine passion, and novel, mind-blowing visuals? I can get on board with that.
I am still a guy, after all.
On the other hand, even if my argument were moot: If it pisses off the Germans, it'll probably float my boat.