It's a small (about the width of a silver dollar) rendition of the Batman symbol, on my hip.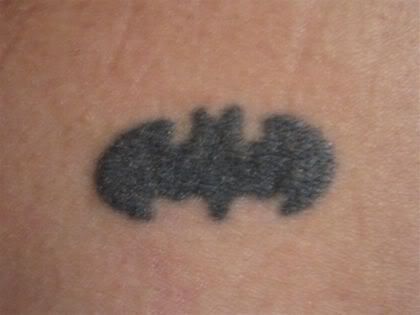 I got it in college. No, I wasn't drunk.Yes, I really, really like Batman. Yes, Freud would probably have a lot to say about my motives for fixating on this particular character. Of course, Freud seemed to have a bit of a fixation on the phallus, so maybe somebody's dead ass needs to take a long, hard look in the mirror and shut up about my tattoo, already.
(Long. Hard. Heh.)
Anyway, I'm already considering getting another tattoo: The Batman Begins version of the Bat-symbol. Going to give it the "see if it's still a good idea in six months" test, first, though. What say you?
Want to see more Batman tattoos and other geeky curiosities? Subscribe to Great White Snark by email or by RSS. It's free.