Once again, an industrious nerd has come through with the goods. A Japanese fellow has designed and built a set of elaborate, sci-fi-themed paper models, including a Y-Wing Fighter, a Tie Fighter, the Millennium Falcon, a Star Destroyer, a Sandcrawler (um, point?), an AT-AT, a Borg cube, the Enterprise, the Delorean from Back to the Future, and other goodness. Best of all, said Japanese nerd has provided the paper templates on his site in PDF form so that you can print them out and build these models yourself!
As if you had the nerd-like amounts of time to spend on such brilliantly frivolous pursuits.
On the other hand, it might be worth it to build an AT-ST, just to recreate the scene from Return of the Jedi when the Ewoks crushed an Imperial walker between two swinging, suspended tree trunks. Smoosh.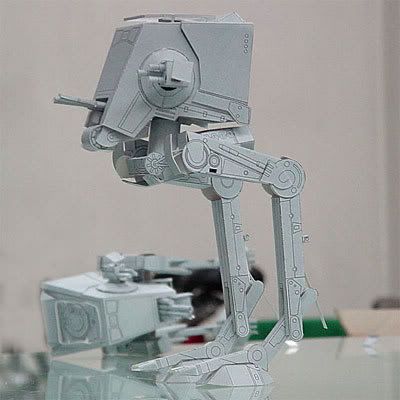 Or not.
Also, enjoy the wonder of Google's translation of this fellow's Web page, which was written in Japanese. Regarding the Imperial Probe Droid:
The work [tsu] solving, is, but as for this being terrible, the shank. [deihuorume] it did the curved surface even boldly and the [chi] [ya] was. It is [kakukakupurobu]. Omission it is and it is the cousin. It does not inhale.
We can agree on one point, sir. No, it does not inhale.