Dedicated nerds, geeks, and dorks from around the world gather in Los Angeles to pay tribute to all that is Star Wars.
I want to get behind this concept. I really do.
But I rarely pay forty American dollars a day to enjoy a concept.
(I don't use Canadian dollars, except as kindling in my fireplace. Side note: Burning Canadian money smells like maple syrup.)
Forty bucks a day. That's how much it'll cost you to spend time at Star Wars: Celebration IV. Not to mention airfare, hotel, transportation, and dining costs.
So what, exactly, do you get for your money?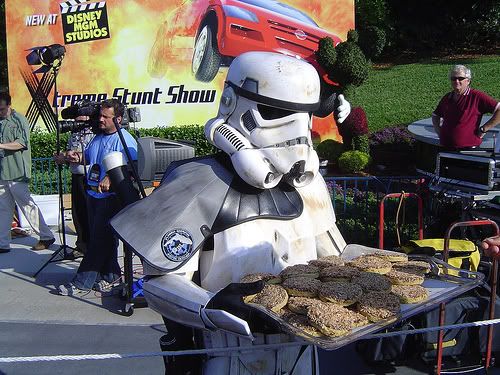 Welcome. Your hard-earned cash gets you nothing but red-carpet treatment here at Celebration. Photo courtesy of mpmbm.
The "events" page is suspiciously obtuse. There is no listing of events, per se. You have to study the "updates" to begin to piece together a semblance of a schedule.
Jay Laga'aia is the Celebrity Host
You: Who?
Me: Um, Captain Typho from the Star Wars prequels.
You: Who?
Me: You know, Princess Amidala's head of security.
You: Who?
Me: [Sigh.] The black dude.
You: Oh! You mean, Mace Windu!
Me: No, not Samuel L. Jackson. The other black dude.
You: Oh. Doesn't ring a bell.
Screening of Fanboys and other Star Wars fan films
Wow, awesome. You know where else I can see Star Wars fan films? This place called the Internets. Pipes and wires. It's going to be all the rage.
Live sculpting by famed sculptor Lawrence Noble
So… after the first five minutes are up, then what? Toss up between the watching-grass-grow and the waiting-for-water-to-boil exhibits.
Collectibles including trading cards, food, store displays, and toys
Ok, this is legitimately fun stuff. But I liked it better the first time when it was called the San Jose Toy and Collectible Fair. Oh, and P.S., that event only costs $5.
(Before you protest, nerds, know that The Star Wars Collecting Trivia Contest only strengthens my resolve. And my sarcasm.)
C-list celebrities
Look, look! Jake Lloyd is old now! Let's play a game where we bet on the first type of felony he'll commit when he's between appearances at sci-fi conventions.
"Show your lightsaber skills" competition
…perhaps, you want the best of both words for your trials — the adrenaline of competition, combined with the expertise of a solo lightsaber demonstration. If so, then the Force FX Freestyle Challenge is for you! Think of it as a freestyle rap battle, but instead of words and strong beats, you get to use your lightsaber to best your opponent!!
Holy shit. I'd pay extra to see this, but only if I could throw rotten tomatoes at the contestants who seemed to be enjoying the festivities a bit too much.
Star Wars Laser Tag
Hm, how to explain this. Oh, I know… it's just like regular laser tag, but with Star Wars stickers plastered all over. Hello-o-o-o-o, cheap ploy.
Conversation with Carrie Fisher
Well. Now we're getting somewhere. A legitimate celebrity with behind-the-scenes insights and… what? This isn't included in the price of my ticket? And seating is limited?
You nerds have got a lot of nerve.
Ok, I take it back. Clearly Celebration IV is begging for satire and merits a visit. It still doesn't merit airfare and hotel, though.
(I should mention, a four-day pre-registered pass to Celebration is only $110. But if you really insist on throwing away that kind of money, why don't you trade it to me for a stack of Canadian bank notes. )
UPDATE: Hold on! Forget I said anything! Billy Dee Williams will appear at Celebration IV! That's worth at least eleven minutes of your time and, oh, wait not $110 of your money.
If you enjoyed this post, consider subscribing to Great White Snark by email or by RSS.