A little over a month ago, I was horrified when super-blog BoingBoing brought attention to a cake with a half-assed likeness of the Death Star. I won't reprint the pictures here, but follow the link and see if you can come up with a better description than this: Large, pre-historic ball of turd with a dent in the side.
UPDATE: Consummate good sport Ruth, creator of the maligned Death Star cake, stops by the comments section and points us to other, legitimately- and comedically-pathetic Death Star cakes.
Now, it's not that I don't appreciate the sentiment. I mean, hey! It's a Star Wars cake! That alone is worth a hearty slap on the back. But of all of the amazing cake artistry out there, this is the one that BoingBoing decided to post? Questionable, at best.
So, I took the advice of a hippie friend of mine and decided to do something about it. What, exactly? Well, I called the person to whom I usually turn when no one else will listen to my somewhat-baseless, annoying tantrums…. my Mom. (Did I mention that my Mom is a bit of a cake artisan in her limited spare time?)
The timing couldn't have been better. I wanted to be able to say, "Now that's a Star Wars cake," and she wanted to make a cake for my brother's birthday. That my brother had no particular interest in a Star Wars-themed birthday cake had little bearing on the matter.
After much deliberation over what shape the cake should take (X-Wing fighter? Jabba the Hutt? Star Destroyer? Greedo?), we settled on Max Rebo, the keyboardist in Jabba's palace band. The result was fantastic.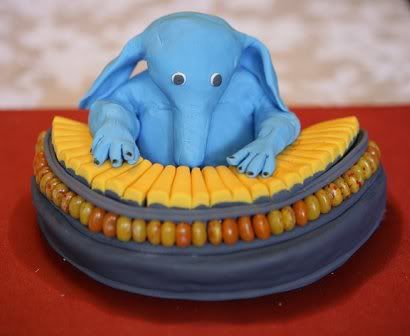 Check out the other Star Wars cakes here on Great White Snark.
UPDATE: Boingboing's coverage of the Max Rebo Cake, including mildly-hilarious cake controversy.
My brother's birthday coincided with my visit home to the East Coast this past weekend, so I was able to photo-document the "before" stages. My brother shot the "after" pictures… see if you can figure out which one of us actually knows his way around a camera.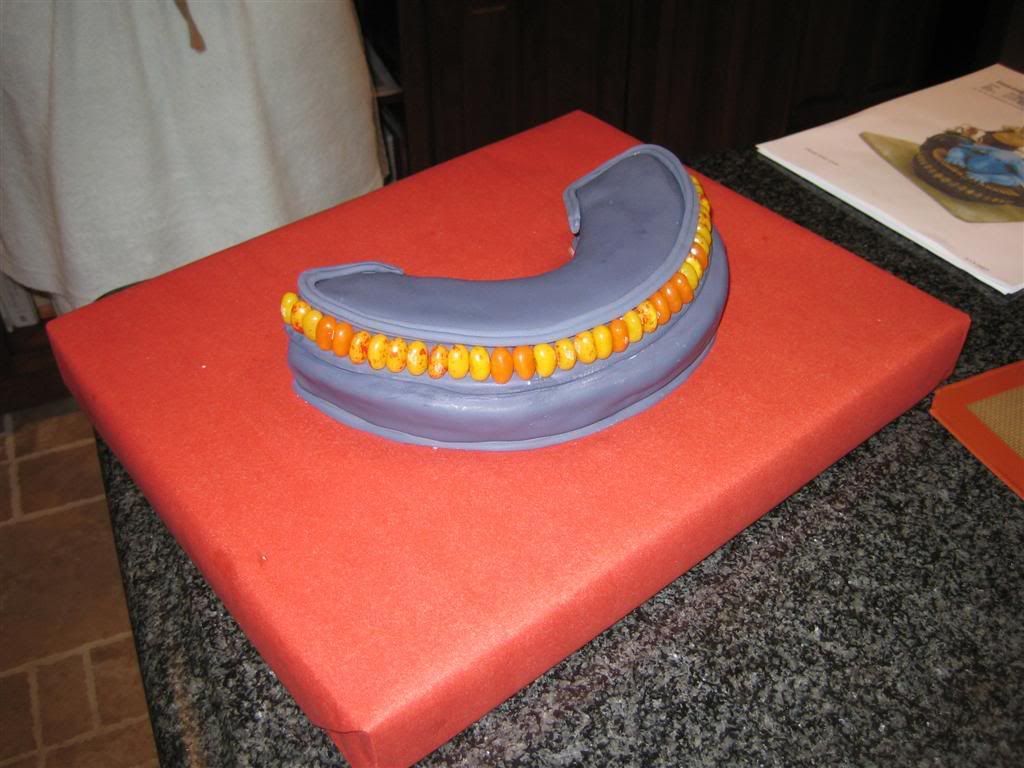 The nearly-completed keyboard. Those are Jelly-Bellies on the side. (This is the earliest-stage picture I could get… curse my Mother for waking up so early to make a cake for me.)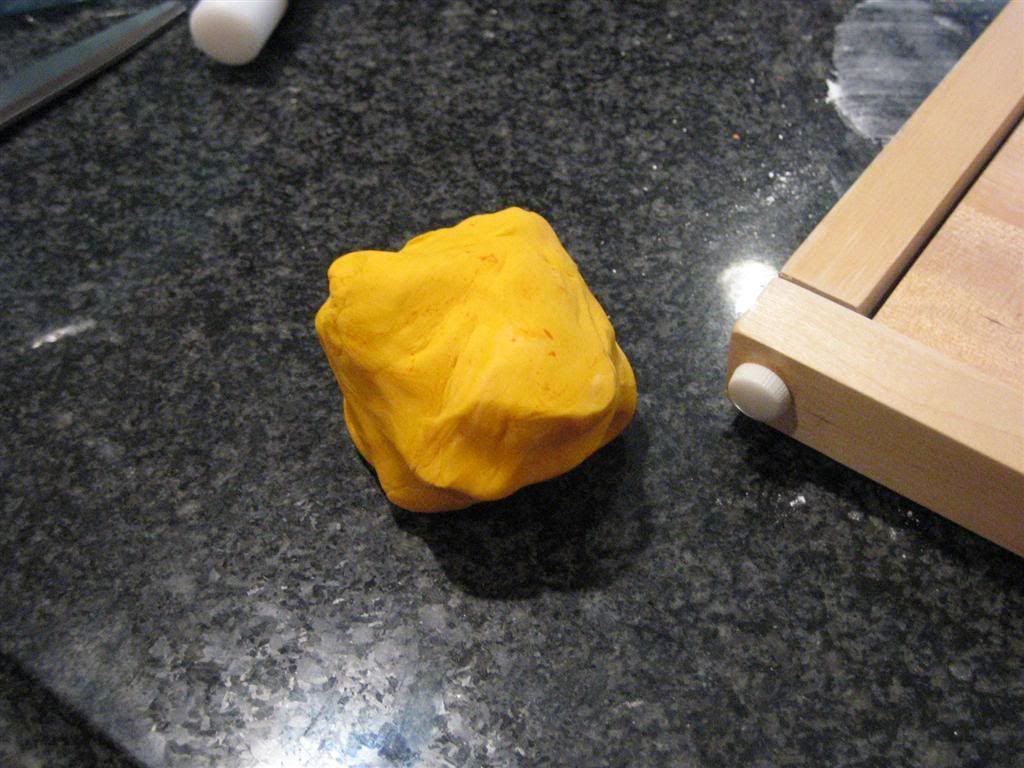 What would become the keys on the keyboard.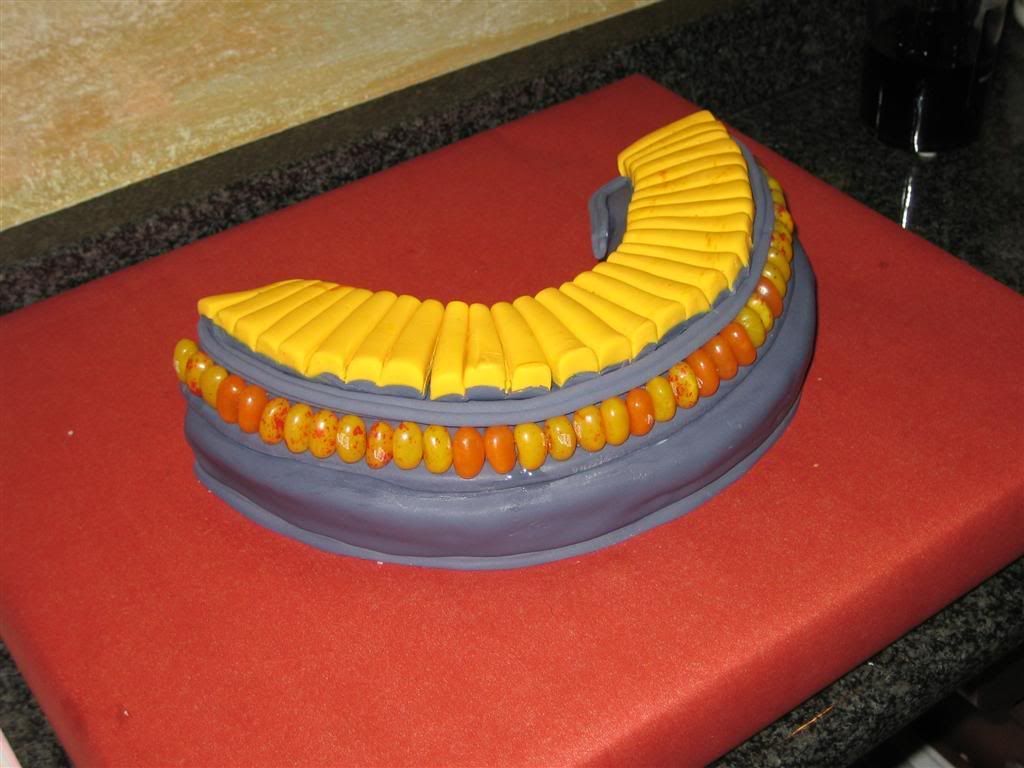 The completed keyboard.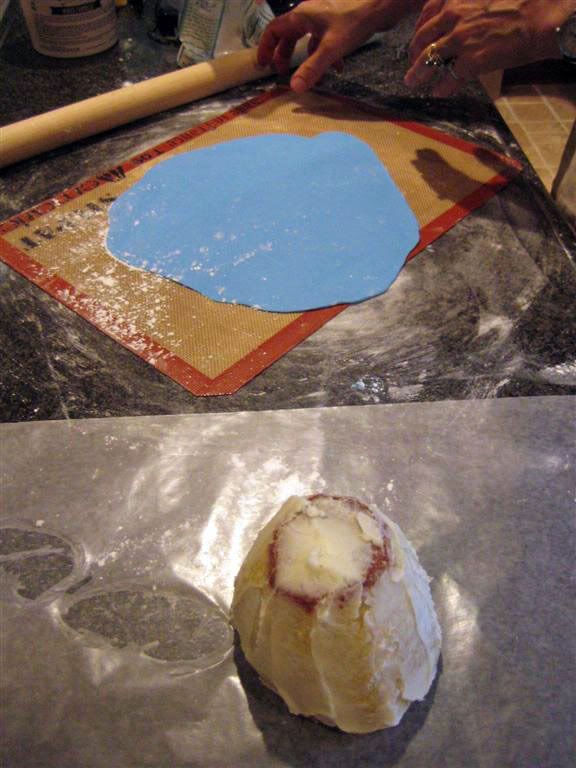 Early stages of Max's body.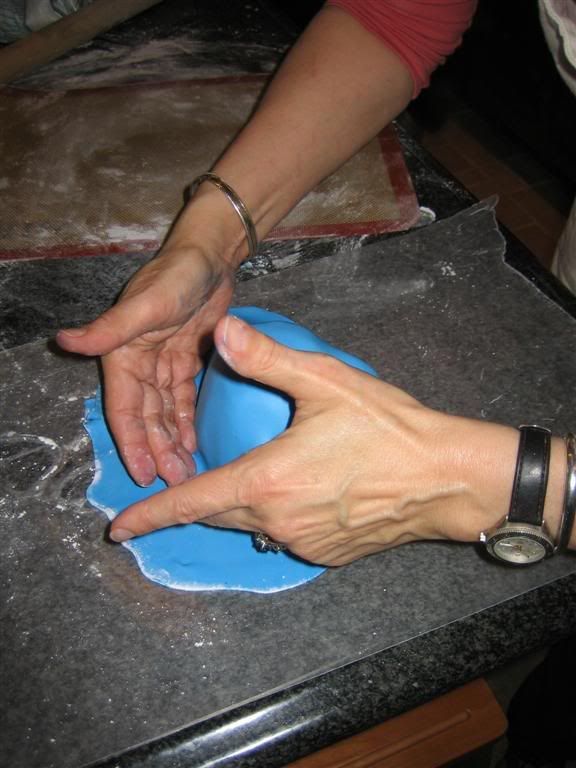 Sculpting the body.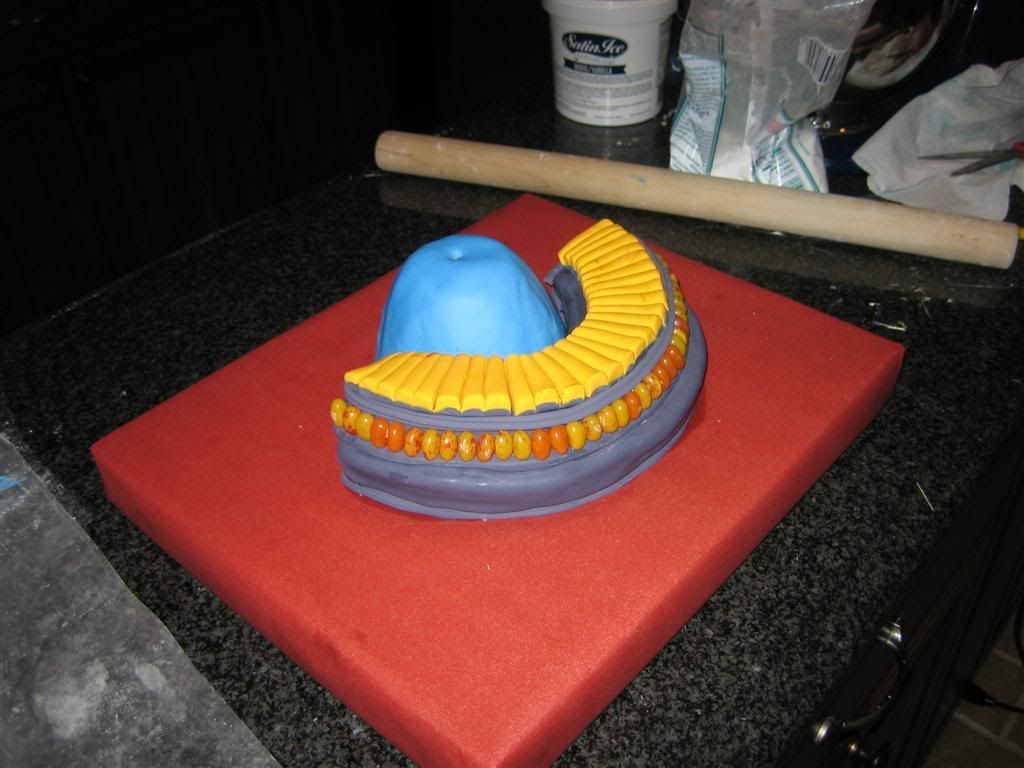 The body, in place. That hole on top was for the toothpick that secured the head, which was made entirely of fondant (icing).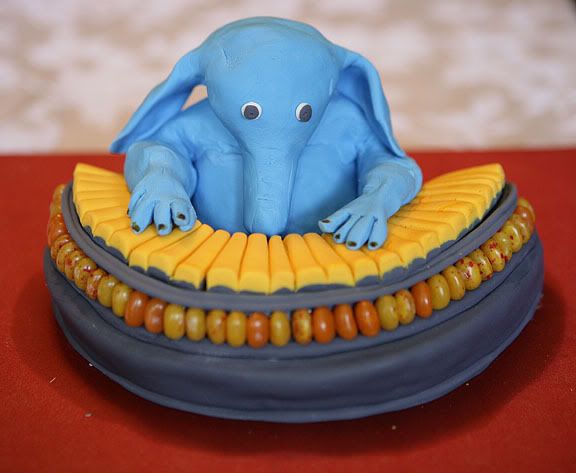 Et voila!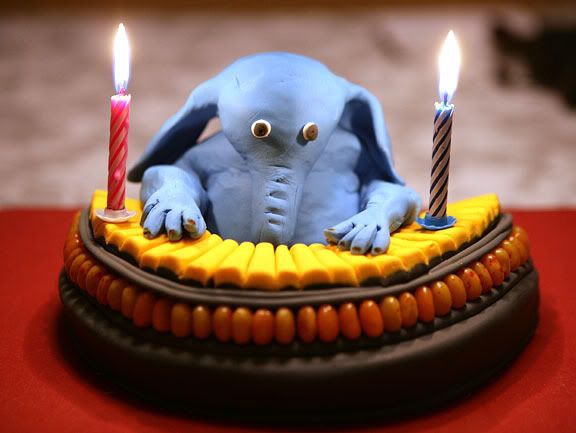 Happy Birthday!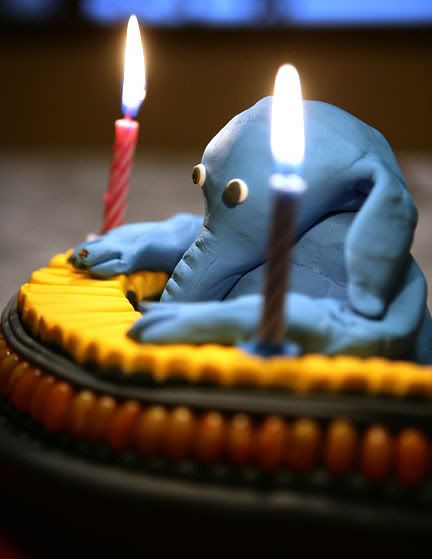 The "photography snob" shot.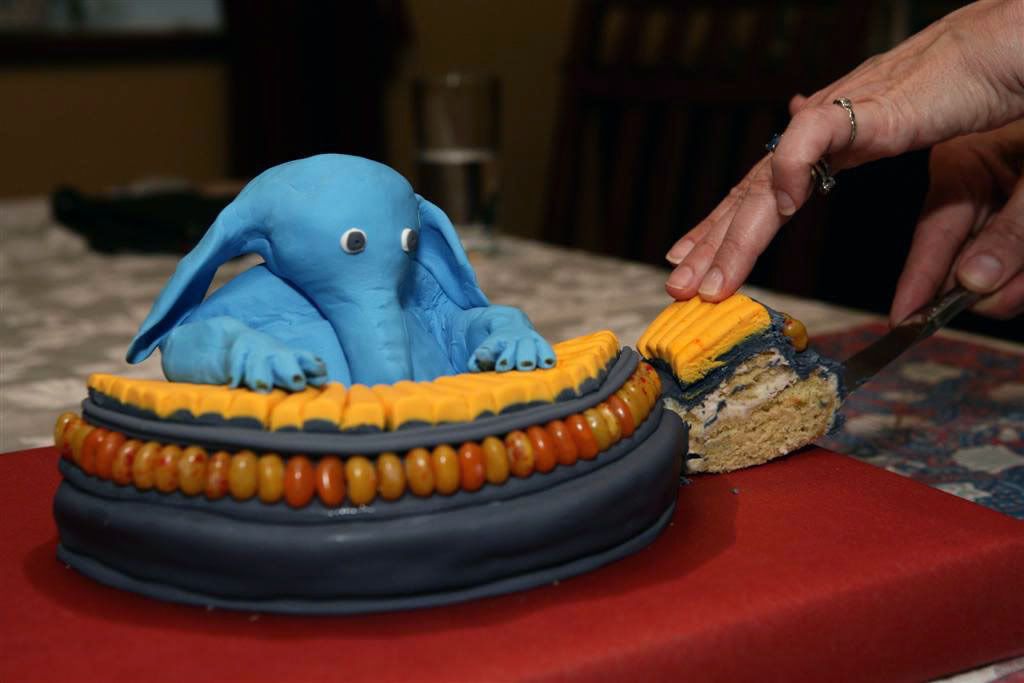 Cutting the first slice.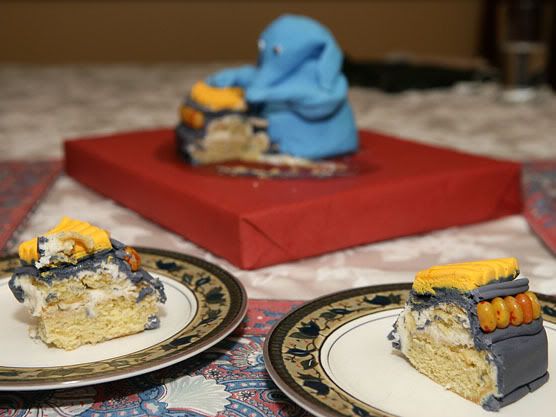 The cake was 100% edible… yellow cake and fondant (icing).
In the final act of this homage to Star Wars, I did my best imitation of the Rancor beast, ripping off Max's arms and then eating them, grotesquely. I'll spare you from those pictures.
If you enjoyed this post, consider subscribing to Great White Snark by email or by RSS. It's free.