Go ahead. Call me a hypocrite. In spite of my previous tirade, I'm a little disappointed that I wasn't in Los Angeles for Star Wars Celebration IV this weekend. Turns out that Celebration had quite a bit to offer, after all.
So what's a geek to do while stuck at home on Memorial Day weekend? Well, for starters, get drunk on margaritas at a popular neighborhood taqueria that suddenly has seating available because everyone left town for the holiday. Then, troll the internets while nursing a hangover. Then troll the internets some more. Finally, get bored of internets-trolling and make plans for my next holiday trip.
In July, I'm headed to San Diego for Comic-Con Internacional… which I say with a Spanish accent to make it sound more exotic, and less dorky. So far my efforts have failed.
After that, my travel calendar is wide open… here are some of the potential destinations I found in my aforementioned trolling.
10. Harry Potter Theme Park Where else could you challenge your foes to a game of Quidditch, to the death?
9. Year-Round Winter Theme Park in Dallas, TX Even if you're not the type of geek to enjoy winter sports (or any kind of sports, at all), you've still got to find out… year-round Winter in Dallas? How does that work? Open by late 2008.
Thank Jeebus for Winterland.  Otherwise Dallas might never experience the joys of snow.  Stupid global warming.
8. Nickelodeon Theme Park in Dubai See SpongeBob SquarePants sit on a throne of gold silk! Watch Dora the Explorer lead oil-drilling expeditions! Open 2011.
7. Cartoon Network and Pogo Theme Parks Ed, Edd 'n Eddy in Delhi, India? Surreal. I'm there. Open 2007.
6. Universal Studios Dubailand "It will contain four zones, among them a Hollywood zone, a Metropolis zone and an Adventure zone." Oh, please let the fourth zone be the Erogenous Zone. Open in 2010.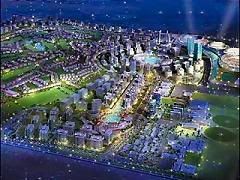 If you squint, you can spot the Erogenous Zone there between those two spires.
5. Paramount Theme Park in South Korea Just what the world needs. Another Six Flags clone. But, lo! This one will be in South Korea, which ranks with Japan as consumer-electronics-Mecca. What other excuse do you need? Open by 2014.
4. Ferrari Theme Park Because there's just so much you can get out of playing Project Gotham Racing 3
on your Xbox 360.
3. Marvel Super Heroes Theme Park Wow… the "full library" of Marvel super heroes brought to life in a major theme park. Knowing how the folks in Dubai like to roll, the Silver Surfer will look more like the Platinum and Diamond Surfer. Open in 2010.
Experience the thrills of genuine Gamma radiation on the Hulk Coaster.
2. Alien Apex Resort in Roswell, New Mexico An indoor roller coaster will simulate an alien abduction. Let's hope that mind-wipes and anal probes aren't included in the cost of a ticket. Open as early as 2010.
1. Superland (Formerly, The Amazing World of Superman) Quite an impressive undertaking for the little town of Metropolis (get it?! get it?!?), Illinois. Worth the visit just for the chance to play on the Bizarro playground. (Upside-down swings?) Open in who-the-hell-knows. But there's "plans," I tell you! There's plans!
It's a bird! It's a plane! It's a pie-in-the-sky concept! It's Superland!
Obviously, Dubai's attractions will soon extend well-beyond the Best Hotel in the World.
Not making the list: Dracula Park. Plans have been in development since 2001, but the Romanian government put the final kibosh on the project last year. Too bad. Romania needs some good news.
Also not making the list: Charles Dickens Theme Park. 'Nuff said.