« Top 10 Upcoming Theme Parks for Geeks | Main | "Dirty Dancing: The Video Game" Signals the End of All Original Ideas »
By Great White Snark | May 29, 2007
Often, when nerds throw their considerable energy into frivolous pursuits, we get spectacular results. Witness the fleet of elaborate, paper-model Star Wars ships, the clever, effects-laden lightsaber fight, and the Transformers costumes that actually transform.
On occasion, however, an errant nerd will miss the mark… by a mile. And where would such a nerd go astray? Why, in Florida, of course! The land where everything is astray.
Take Randy Constan, for example. This denizen of Tampa, FL has dedicated his life to becoming a real-life Peter Pan. He has the haircut, outfits, and Web site to prove it.
Randy calls this his "everyday wear". So try to imagine what his costumes look like.
What drives a 54-year-old man to act like such a fruitcake? (Nutty, that is.) A professed love of androgyny and service to "the God of Love that Jesus spoke of." Charming. Randall, does your "service" officially include the ballet lessons you took to complete the effect of Peter Pan's dainty-ishness, or was that on your own accord?
Randy, ever the self-cognizant one, says:
I know all this makes me a very silly boy!
That somewhat begins to describe it… which makes me wonder what pixie-dust he was snorting when he said this:
Of course life is not a game, and I do strive to continually grow in emotional, spiritual, and mental maturity.
Yes, I entirely agree, if by "in emotional, spiritual, and mental maturity" you mean, "my collection of unnervingly odd costumes."
I urge you to check out his "fashion pages." I anticipate that you will stare, slack-jawed, in disbelief.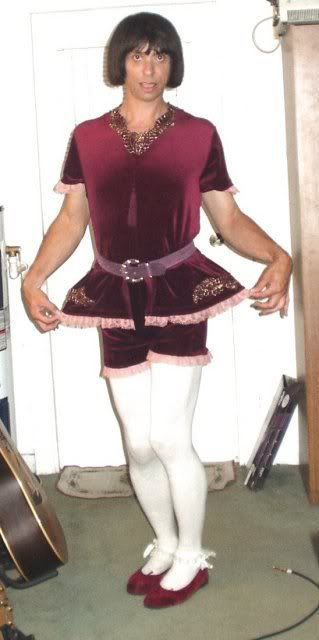 Fifty-four years old.
If you enjoyed this post, consider subscribing to Great White Snark by email or by RSS.
You may also like these stories:
Topics: Geeks, Offbeat News | 14 Comments »
14 Responses to "Randy Constan is a Freakish Peter Pan with Wrinkles"
Comments