One of my few regrets in life is having sold on Ebay my collection of Uncanny X-Men comics penciled by Jim Lee. When I was a comic-collecting teen in the 1990s, celebrities in the comic book industry didn't get any bigger than Jim Lee. He's just crammed full of artistic talent that almost everyone seems to enjoy. Much like actor Will Smith… but more Asian. And not at all black. Or an actor.
Anyway, here's what Jim had to say:
He loved drawing and comic books as a kid. His dad wanted him to be a doctor, and Jim even got as far as going pre-med in college, but he ultimately decided to follow his passion. The end. (And we all lived happily ever after.) His early influences included a lot of mainstream artists like George Perez, John Byrne, and Frank Millar.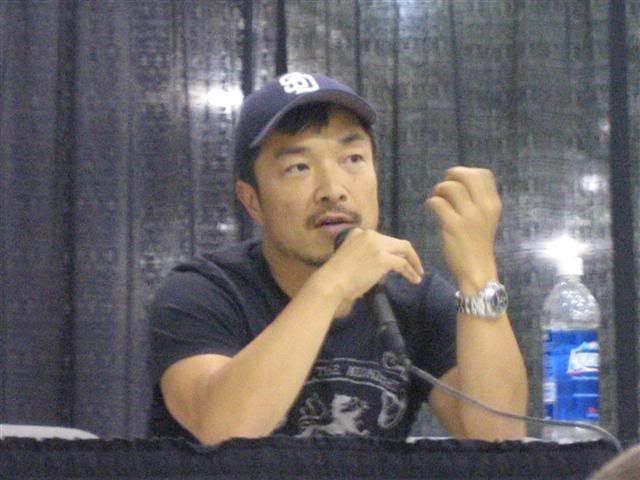 The lead designer of Cryptic Studios–developer of Marvel Comics' massively-multiplayer online game–was on hand to good-naturedly coax insider info out of Jim about his work on DC Comics' MMO. Jim and his company, Wildstorm (which was purchased by DC in 1998), are producing the concept art for the in-game characters (and environments?). Sounds like some of the settings in the game will definitely include Metropolis and Gotham.
There's no doubt Jim is the right man for this task… he's got the user-insights of a comic book creator and of a hard-core gamer. He plays first-person shooters to blow off steam and also had this to say:
I had the first Epic Sword on my [Everquest] server. Woohoo!
Responding to a question about what projects he'd like to work on, Jim indicated that he might work on a short story for Legion of Super-Heroes. He's also spoken with Brad Metzer about doing something for Justice League.
In answer to a question about his favorite fringe comic book characters, he named Matter-Eater Lad (power: to eat and digest matter in all of its forms) of the Legion of Super-Heroes. Good call. He also mentioned Mr. and Mrs. Bullet Head (i.e., the characters that had big, bullet-shaped domes on their heads) and Eunice the Untouchable(?).
UPDATE: Blog@Newsarama points out that it's Bulletman and Bulletgirl (duhr) and Unus the Untouchable .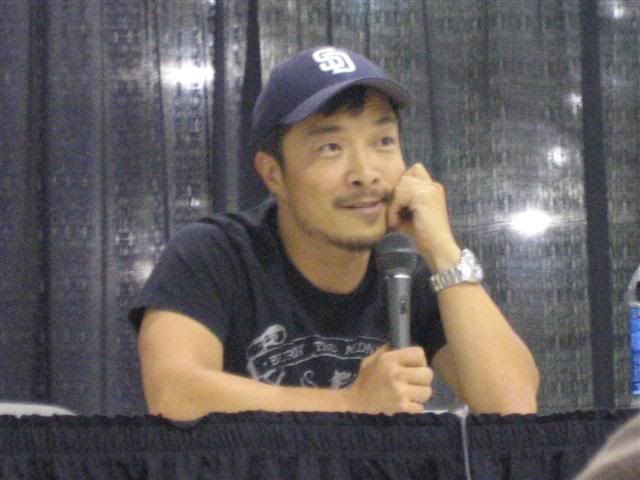 Random trivia: He provided the voice a Sentinel in an episode of an X-Men cartoon. His line: "Stop, Mutie." He also provided the voice of a dude who gets run over in a Wild C.A.T.S. cartoon episode. Another two-liner: "Oh no!"
He jokingly named his one regret as his choice of band to perform the theme song to his short-lived Wild C.A.T.S. cartoon.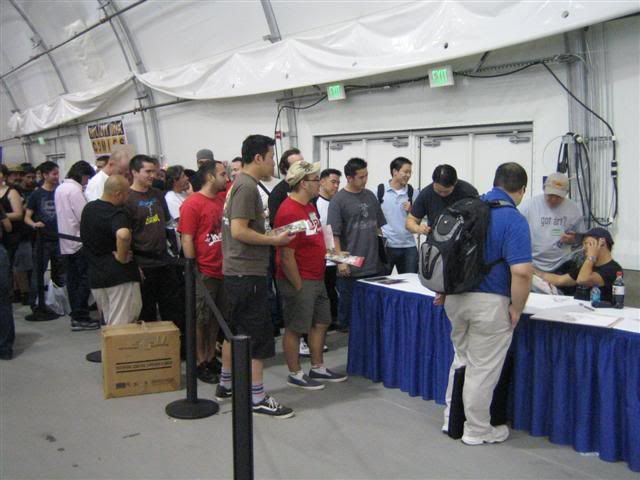 The throng of fans waiting for an autograph.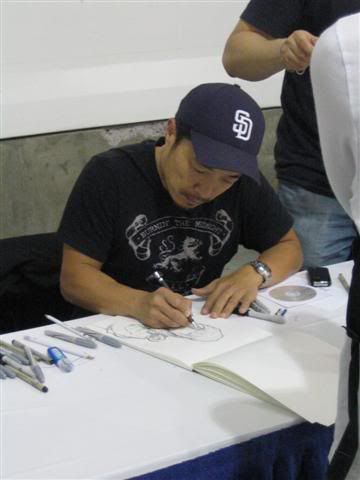 Illustrating a piece for a lucky fanboy.
Enjoy this post? Subscribe to Great White Snark by email or by RSS.