From Kevin of Harmony Gold, the company that owns the rights to the Robotech franchise:
Live-Action Robotech Movie A couple of weeks ago, Kevin received an unsolicited offer for the rights to the Robotech live-action movie. This isn't the first offer he's received. A Robotech film would easily cost $100M+, so a big Hollywood studio would need to bankroll it. Hollywood getting on board with the project is essentially contingent upon the Transformers movie doing well this summer. He more-or-less suggested that Transformers succeeding means that a Robotech movie gets made.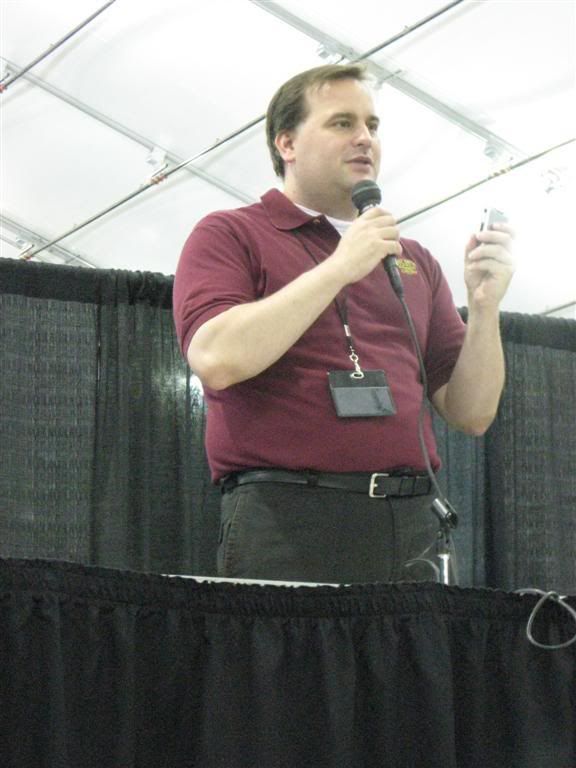 CGI Robotech It's "always a possibility." It won't be another Robotech 3000, which was booed off the screen at an anime festival in 1999.
The technology is there. There's always a possibility in the future, but there's no hard-core drive to do that right now.
Comic Books There's a distinct possibility, but they're "waiting for the right opportunity."
There is a demand for comics, but comics are going through a suffering decline right now.
Video Games There will be some more video games, but rights are currently reverting from TDK to Harmony Gold.
There will be more video games in the future, I guarantee you.
The new Robotech: The Shadow Chronicles Anime Movie It was filmed in high-definition, and there will be a HD version released, but Harmony Gold is taking a wait-and-see approach to the battle between Blu-Ray and HD-DVD.
So, basically a lot of possibilities… but only one guarantee: more Robotech video games.