Just got back from RoboGames 2007, "the world's largest open robot competition," held in the Festival Pavilion at San Francisco's Fort Mason pier. Plenty of wickedly-ingenious robotics put to imaginative uses. (What is: The definition of "geek porn," Alex?) Check out Zou Ren Ti, who has created his own android doppelganger.
Of all the pretty blinky lights and shiny surfaces, however, robot combat (or, BattleBots, as most of us know it) was by far the highlight.
(Ok, so I might be underselling the non-BattleBots stuff a little bit because my camera batteries died before I could get any good shots. You can file a grievance with Canon Electronics and with the part of my brain that handles basic responsibilities like remembering to charge dead batteries. I'm sure both of those entities will respond in a timely manner. On the other hand, you could just check out Laughing Squid's fantastic photo gallery.)
What follow are a few of the more violent, loud, sparky, out-of-control, destructive, and dramatic bouts of the day.
UPDATE: Here's another sweet fight (KO in under thirty seconds) involving fan-favorite Sub-Zero, courtesy of another RoboGames attendee:
Sorry, the camera ran out of juice before the match involving the 'bot with the FLAMETHROWER. Yes, the flamethrower. It was sweet. Sorry, I said.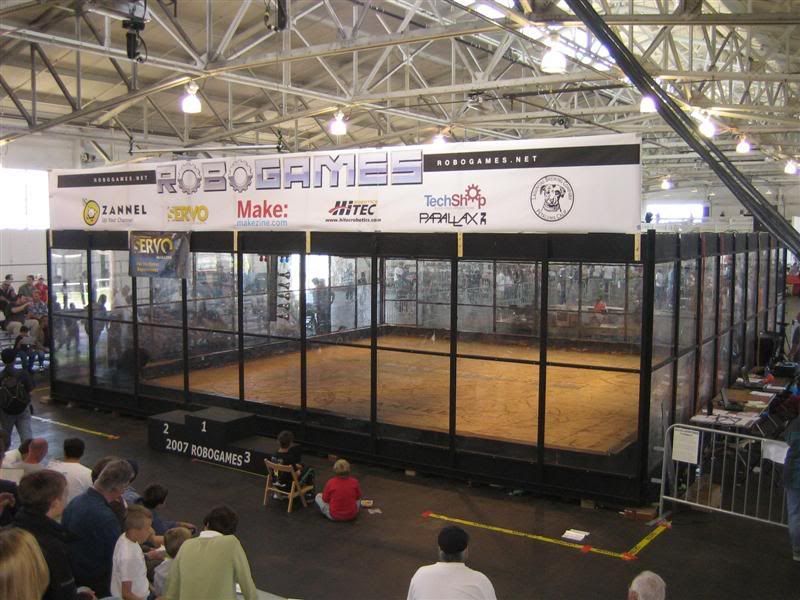 The 20-ton arena. The floor is surrounded by 1/4″-thick steel I-beams, and the arena is encased by 1″-thick Lexan.
The eager crowd.
Adam, a competitor in the Insect-weight division, with his plans for a future 'bot.