Furthering Japan's efforts to roboticize the world, Sega Toys has announced the latest additions to its successful line of lifelike, animatronic Dream Pets… a American Short Hair cat, an owl, and a Blue and Gold Macaw parrot.
In favor of somewhat-lifelike robot pets:
No more trips to the allergist. At least until ragweed season, you wuss.
Robo-cat doesn't shit on the living room carpet when you have displeased it.
You can enjoy the benefits of being a Crazy Cat Lady without the telltale fur covering all of your clothing. If you're into that kind of thing.
If you're super-rich and have run out of other toys to buy, you'll have something new to show off to your less-fortunate friends, who will feign interest as their resentment towards you quietly boils.
You probably wouldn't otherwise have a pet owl.
Mods. Lots of mods. When you and your Labrador play fetch, can he shoot a grappling hook out of his mouth? I thought not.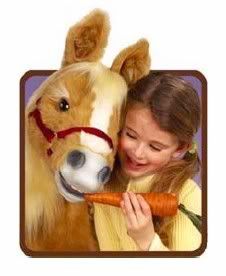 Why won't you eat the carrot, Barbaro? Why?
Against the soulless abominations:
You can't use them to pick up chicks. Unless you're into chicks who understand and respect the rules of Pokemon.
Did I mention the lack of a soul, and cold, dead eyes?
Swatting one with a newspaper isn't very satisfying. And can be really expensive if it pops a gasket or something.
You'll never be able to tell the funny story about the first time you heard grandma use the F-word… when the robo-dog humped her leg at the Thanksgiving dinner table.
What say you?