It's been two years, already. If you haven't yet seen Serenity
, the movie by Joss Whedon set in the universe of his short-lived television show Firefly
, then you might as well roll up an issue of Entertainment Weekly, light it up, and inhale deeply… because you're clearly not getting a taste for pop culture from any other avenues.
Need convincing?
8) Browncoats (ardent Firefly/Serenity fans) still hold screenings of Serenity in theaters around the country (to benefit charity, no less). Let's see, what other movies get that treatment… Rocky Horror, Casablanca, The Wizard of Oz, Rear Window… get the picture? I'm going to mosey out on this limb and say the flick is a classic.
7) You can find Serenity at sea on a "Browncoat Cruise." Does your favorite movie have a themed, five-day cruise? (No, and When Harry Met Sally never will have a themed cruise, so stop holding your breath.)
6) When the astronauts were in quarantine for five hours last month before the shuttle Atlantis took off, guess what show they chose to watch. Then guess what DVDs were photographed floating around in the International Space Station. Yeah. The fanboys at NASA are so fanatical, I'm surprised they didn't slap a "Browncoats On Board" bumper sticker on the space shuttle.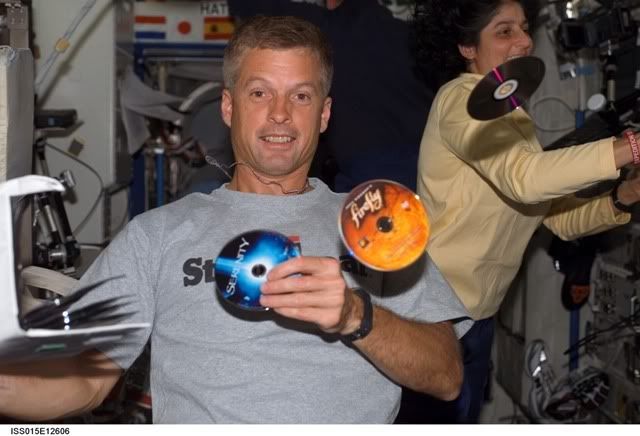 5) According to an online poll of over 3,000 respondents, Serenity is the favorite sci-fi movie of the readers of SFX, a sci-fi and fantasy magazine. Star Wars came in second. Seems almost sacrilegious, but there it is.
4) Even Star Wars geeks can't stop talking about Firefly and Serenity... on the Star Wars blog!
3) Serenity isn't just a good sci-fi movie… it's a good movie. It got a 74 on Metacritic, a site that aggregates and quantifies movie reviews from the most-respected and popular sources. Certainly, none of those blockbusters you've enjoyed this summer–Ocean's 13, Transformers, nor the laughable Live Free or Die Hard—managed to score in the 70s.
2) The Browncoats will convert you. Forcibly, if necessary. And by "forcibly," I mean by way of a lot of gushing and friendly encouragement. 'Cause, really, they're pretty nice folks.
1) Serenity was greenlit by a major Hollywood studio and given a $40 million budget, based on a rabid fanbase and the strength of a TV series unfairly cut short after less than one season. Think maybe there's something going on there worth checking out?
If you don't "get it" at this point, you're probably the type of person who wears a rubber helmet at all times for your own safety… and I'm not going to get through to you. If you have seen the light, buy the movie
or the television series
, and then find out how you can try to keep the amazing Firefly / Serenity universe alive.
UPDATE: This barely counts has reason #9, but it's worth sharing… Serenity gets the "All your base are belong to us" treatment.