SCI FI channel has announced an upcoming animated series, The Awesomes, billed as a "workplace comedy."
Formed in the 1940s, the team has gone through a revolving roster of the world's top heroes, gradually losing popularity as other, cooler superhero teams come into favor.
I remember dismissing this exact concept the first time around, when it was called The Justice Society of America… a comic book published by DC Comics starting in the 1940s.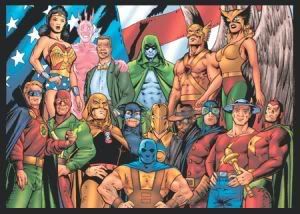 JSA: "We was robbed."
Of course, the comic book doesn't benefit from the talents of producers like Saturday Night Live's Seth Meyers and Lorne Michaels. I'll give the show a chance when it premieres in the new season.
And then judge it severely, of course.