If my experience with online dating were a television show, it'd be a tragicomedy, featuring dialogue like this (addressed to a perfectly lovely speech therapist specializing in small children's developmental issues):
So what kinds of techniques do you use with these kids? I mean, do you beat them for being so stupid?
Yes, I said that to a date. Yes, I have class… spelled with a capital A-S-S.
Yes, she asked me out again. And I could not tell you why.
Even though Dr. Neil Clark Warren is convinced that I share "deep levels of compatibility" with women who have twice my weight and none of my disdain for Appleby's and other things you can find in a suburban strip mall, I'm not ready to settle for anything less than a spiritual connection with a gal who passes the Geek Girlfriend Litmus Test.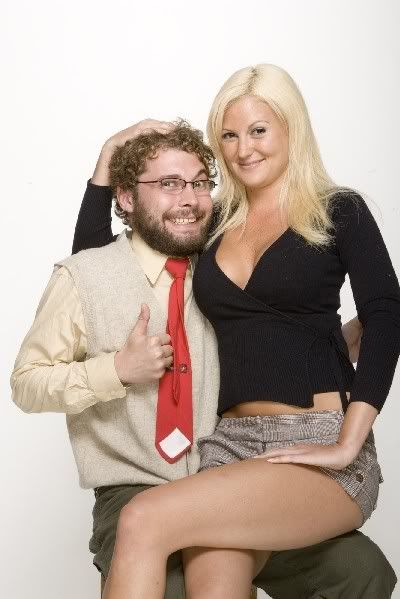 Find me an online dating site that screens single women with this geek-compatibility quiz–and that requires several recent photographs–and I'll gladly part with my $29.99 a month.
For fun, I've fashioned this in the style of a Cosmo quiz… you can tally your score at the end.
1) Who shot first?
a) OMG, WTF are you talking about? Stop talking to me, nerd. (-10)
b) Um, I dunnoh. Is it on Wikipedia? (+0)
c) Everyone knows the added bullshit in the 1997 Special Edition doesn't count. (+10)
2) In case of fire, what belongings do you save?
a) Duh, my make-up and my Christina Aguilera CDs. Nerd. (-15)
b) My cat. (-10)
c) Important files and paperwork. (+5)
c) My boyfriend's computer and his prized collection of comic books / action figures / back issues of Maximum PC. (+15)
3) What's your favorite Halloween costume?
a) One year I went as the apple from the Fruit of the Loom gang. (-15)
b) I, like, only dress up as people I respect. Like Paris Hilton. She's so pretty. (-10)
c) I only dress up as people I respect. Like Madeleine Albright. She's so brilliant. (+0)
b) Sexy nurse / cat / policewoman / whore. (+5)
c) Who needs Halloween? I've got a slave Leia costume that fits any night of the week. (+15)
4) What do you do when your hard drive crashes?
a) Wash it out in case it's all gunky. (-20)
b) Like, call those Geek Squad nerds to fix it. (-5)
c) Restore from my backup data. (+5)
d) I know my Mac isn't perfect, but what was I going to do? Get a Dell? I might as well try cutting a porterhouse with a banana while I'm at it. (+10)
5) What do you want to do tonight?
a) Let's go stand in line for an hour with my girlfriends for the opening of this new club. It's supposed to be s-o-o-o-o hot. And I heard Nick Lachey is going to be there! (-15)
b) Don't we have episodes of Battlestar Gallactica on the TiVo that we haven't watched? Let's order a pizza and hang out on the couch. (+5)
c) Surprise! I got us tickets to a Video Games Live concert! (+10)
6) What's your position on video games?
a) They's so stupid. I don't get it. (-15)
b) I can tolerate them, as long as my boyfriend doesn't spend hours playing them. (+0)
c) I know my fellah needs to blow off a little steam every once in a while, and sometimes that means shooting things. At least it's fun to watch… the graphics are amazing on the Xbox 360! (+5)
d) Let's fire up the Wii. I will so take you down in tennis! (+10)
7) Let's get a dog. What do you want to name him?
a) Mr. Cuddly Snugglesworth. (-20)
b) Rex. Or, Tobey. (+0)
c) Hobie. I think that'd be a cute nickname for Obi-Wan. (+5)
d) Bender. I never watch Futurama any more, but I like the idea of naming our pet after a loudmouthed robot. (+10)
Add up your score:
-110 through -5: Go back to watching MTV. Need not apply.
0 through 25: Someday you'll be a wonderfully average girlfriend for some guy named "Joe" who thinks that USA Today is "the news."
30 through 55: So close! Spend some time on Wookieepedia and try again.
60 through 80: Congratulations! You qualify to find out why geeks make better lovers.
Continue to Part Two of the quiz.