Apple has released embeddable widgets that let you share your tastes in music with the eleven people who read your blog. Hooray. Now that I can constantly stream my fondness for Incubus, Timbaland, and Foo Fighters, my musical soulmate and I will finally be able to find each other.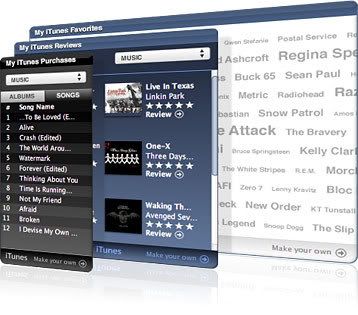 Right. In other words: Who cares? Unless you're a musical savant or a record executive, what you're listening to probably isn't particularly remarkable or interesting. Oh, what's that? You think liking Kanye West makes you some-kind-of-special? Well, whoopdee-doo, David Geffen. These days, I'm pretty you can't even be considered for U.S. citizenship unless you can recite the lyrics to Gold Digger.
The world is drowning in Web widgets that offer no substantive insight into a widget's owner. No, I don't care what books you're reading, (Oprah). No, I don't care that your current mood is "mopey." (Tell it to your therapist, not to the strangers looking for underage poontang on MySpace.) No, I don't care that it is currently 67 degrees and partly cloudy where you live. (If you use this widget, ask yourself if you've got anything else more interesting to talk about than the weather. If not, stop screwing around with the computer and get one of them "real life" things that they talk about on TV.) And, no, unless your name is Warren Buffet, I really don't care about the current prices of your stock holdings. (Didn't your mother teach you that it's tacky to talk about money? And to incessantly stick your hand down the front of your pants to scratch an itch? So… stop it.)
What I'd like to see are some widgets with substance. Either give me a real taste of you, or at least make me laugh, people.
Please. Do it for the children. The children!
Heretoforthwith are a few ideas for new widgets. I make absolutely no promises that I'll stay away from the potty humor. In fact, this post pretty much eats, sleeps, and breathes potty humor. You've been warned.
MY LAST FART SMELLED LIKE
Strawberries.
THE PERSON I WANT TO DRIVE OFF A CLIFF
No one under 17 is allowed to use this widget. You wish mommy and daddy didn't exist. No one understands you. You live an oppressed, middle-class life in a developed nation with clean drinking water. We get it. Waaaah.
Also, no staunch politicos on the left or right are allowed to use this widget… because Jebus Crackers knows that you'd provide the most predictable and cliched responses, ever. Plus, we don't need thousands of activists rounded up by the Secret Service for "threatening" the life of our glorious leader.
THE EMPLOYEE THEFT CALCULATOR
Economists would love this one. Every day, you'd enter in the number of hours you pissed away at work, and it would display how much you've "stolen" from your employer, based on your yearly salary.
PUSHPIN MAP OF CITIES IN WHICH YOU'VE GOTTEN LAID
Color-coded by whether you practiced safe sex, whether it was a one-night stand, and whether any STDs were exchanged.
For me, Tampa, Florida, would be a hodgepodge of red, purple, and yellow pushpins. That's not a time I like to think about. But, damn, would it make for an interesting widget.
THE CURRENT WEATHER… IN MY PANTS
Stormy? Hot and humid? Frigid?
MY PRETENTIOUS BOOK LIST
Instead of telling me about the books on your nightstand, tell me about the books on your shelf that you know you'll never read, but really impress your guests.
Here, I'll start. Peace, Not Apartheid, by Jimmy Carter. Contrarian Investment Strategies, by David Dreman. Parting the Waters, by Taylor Branch.
Although, I do want credit for reading 60 of the 1000 jam-packed pages of that last one.