I only recently realized that I've gone gah-gah for the zombie genre. It kind of snuck up on me.
As zombies are prone to do.
VIDEO GAME: Dead Rising
Resident Evil
has nothing on Dead Rising
. And it never will, at least not until you can smash zombies with cash registers, park benches, dumbbells, hockey sticks, 50 caliber machine guns, cleavers, bowling balls, potted plants, and intestine-scattering power-punches.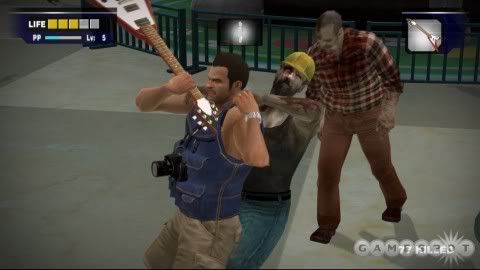 It's not wise to antagonize me while I'm wielding an electric guitar, dead man.

COMIC BOOK: The Walking Dead
Writer Robert Kirkland knows what Joss Whedon figured out a long time ago… the most fantastically absurd plot (a high school Valley girl is blessed with super-powers to save the world from vampires?) is rendered classic by compelling storytelling and characterization.
And so we have The Walking Dead
, one of the three comic book titles I absolutely can't forgo reading every month. (Another one is Kirkland's Invincible.) Kirkland's Battle Pope
? Not so much. A bit heavy on the absurd plot, not enough of the… everything else.
NOVEL: World War Z
You know all those books and documentaries that feature interviews with World War II veterans, recounting their memories of the war? Yeah, World War Z
is that… journalistic "interviews" with key players and survivors of the global Zombie War, set in the near future and incorporating contemporary socio-political issues in a mostly-serious, somewhat-tongue-in-cheek tone.
The only thing I have against the premise and execution of this book is that I didn't think of it first.
MOVIE, HORROR: 28 Days Later
Ok, so don't eat my brains for this, but the best scary zombie movie isn't one by George Romero. 28 Days Later
gets the nod because… what's scarier than a hungry, rabid zombie? A hungry, rabid zombie with glowing, red eyes that can run faster than you can.
Plus, everything's scarier in England. Just look at Posh Spice. For some reason, her anorexia is much less upsetting now that she lives here in the States. (Look at me, with my pop culture references.)
MOVIE, COMEDY: Shaun of the Dead
Don't "Well, duh," me. There's actually another contender besides Shaun of the Dead
. Treat yourself to Fido when it comes out on DVD
.
TV SHOW: Pushing Daisies
Saying that Pushing Daisies is about zombies is like saying Lost is about tropical island vacation spots. It's true in definition, but not in spirit. Sure, there are people brought back from the dead, but generally the undead are pretty agreeable, and at no point do they attempt or want to eat brains. In fact, the show is so cutesy and cuddly, it might make an actual zombie curdle up and die. Again.
Sadly, though, there are no other contenders for the title of Best Zombie TV Show since CBS dumped Babylon Fields from its Fall premiere schedule.
PORNOGRAPHY: Re-Penetrator
Re-Penetrator (NSFW) is a, um, re-imagining of the 1980s horror flick, Re-Animator. This XXX feature was introduced on BurningAngel.com, which seems to feature a lot of goth-looking girls in its pornos… which I guess is considered pretty avant-garde for the creative geniuses of the porn world.
Whatever. I haven't even seen this movie. (Not that a flick about the 20-years-dead body of a stripper being reanimated by a vaginally-injected serum doesn't sound fascinating.) It wins the title based on being the only entry… after an extensive review of the first two Google results for a search on "zombie porn".
SONG: Rob Zombie's More Human Than Human
Tell me that you don't feel like putting baseball bat to zombie skull when you hear this song
.
Or, at least, shaking your tiny, little fist defiantly at a zombie from behind safety glass and a barricaded door.
ANIMATION: Xombie
What, you thought I was going to suggest Scooby-Doo on Zombie Island
? Maybe the zombies aren't the only ones that need a good bludgeoning.
Check out the shovel-wielding zombie vigilante of Xombie.
MUSIC VIDEO: Michael Jackson's Thriller
Also… worst zombie music video ever? Michael Jackson's Thriller.
MJ wasn't fully convincing as a reanimated corpse until the 1990s.