So, I've figured it out. Janeane Garofalo's casting on the next season of Fox's 24 isn't a publicity stunt. She's the secret weapon in the oft-cited revamping of the show since it's mind-numbing drag of a sixth season. (You know things are bad when your show can't even make nuclear attacks on American soil seem interesting.)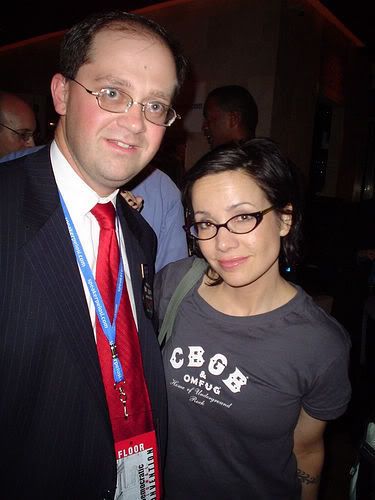 Some nerd hugs The Savior. No, not JC… JG.
24 has been screaming for a character whose sole purpose is to wryly (and sometimes, sarcastically) bring attention to the show's beyond-ridiculous plot developments, character behaviors, and dialogue. Like Michael Bluth in Arrested Development. Or Wash in Firefly. Xander in Buffy. Me, at a comic book convention.
Here are my suggestions for Janeane in her efforts to bring to 24 a semblance of tongue-in-cheek self-awareness:
Every time Jack Bauer starts talking in his husky whisper, scrunch your face up into a pained expression, and say, "What? What? I can't hear you. You're going to have to speak up. Louder. Louder."
When you arrive at CTU offices, loudly wonder, "Just so I know… I've been gone for a few hours… who's CTU director now?"
When Jack is sent out on a mission, say, "Yeah, uh, let us know if you need any backup," and exaggeratedly roll your eyes.
As soon as arrogant Englishman and CTU Analyst Morris O'Brien opens his mouth to claim that he's the only one with the skills necessary for fixing a particular problem, start chortling like a heavyset, English buffoon until he shuts up. Repeat when necessary.
Stop Chloe when you pass her in the hall and say, "There you are! Oh, wait… sorry. I thought you were my sad, lost puppy." Then walk away.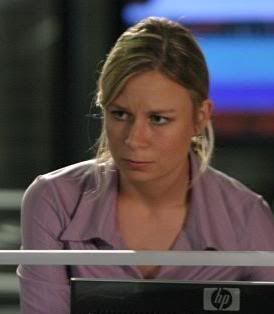 Sad puppy.
On Jack's desk, leave a large paper bag filled with a hand saw, a turkey baster, a book of matches from Hooters, a mechanic's wrench set, a soldering iron, dirty syringes, bottles of unmarked pills, and a box of ribbed condoms. With crayon and in big letters, mark the bag, "Interrogation Kit."
Whenever anyone says, "I'm just doing my job," say, "Yeah, me too." Then, lift your leg a little, and fart.
Always respond to the words, "We have a situation," with, "Let me guess… there's a threat against the President, yadda yadda yadda. It must be Tuesday."
It's guaranteed that Jack Bauer will, at some point, approach you with an exaggerated sense of urgency and say, "I need your help." Put your finger up in the "Just one moment…" position, and start touching up your lipstick. Then, clasp your hands in front of you and say, as pleasantly and evenly as you can, "Yes, how may I help you today?"
If Kim Bauer shows up to CTU, say, "Oh, good thing you showed up. We haven't had a kidnapping for, like, at least the past fifteen minutes."