Sure, it's quite a limb to venture out on. (And quite a sentence to end with a preposition. Boo-yah!) But, Christ on a cockroach, if anyone's equipped to put together this list, it's a geeky TV-phile like myself. Who spends way too much time thinking about these sorts of things.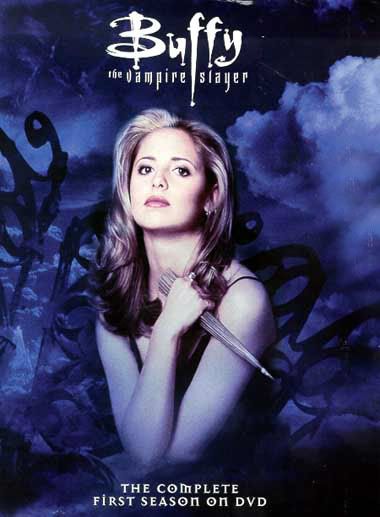 In this case, a generation is intended to include 20 years, so any shows produced and broadcast before 1987 are out of luck. That means no Twilight Zone (you didn't actually expect me to consider the 2002 version, did you?), no original Star Trek, and no early-1980s cartoons like Transformers, G.I. Joe, He-Man, or Thundercats.
No anime. There are enough good anime series out there to merit a list of their own. Otherwise, I'd be glad to include shows like Cowboy Bebop, Ghost in the Shell and Fullmetal Alchemist.
Only one show per canon. So you'll find Star Trek: The Next Generation, but no Deep Space Nine or Voyager. Buffy, but no Angel. Batman: Animated, but no Superman: Animated. Futurama, but–sadly–no The Simpsons. (If you watch, you know that they do, in fact, exist in the same fictional universe.) And Stargate: SG1 is all you get… you're sure as hell not getting Stargate: Atlantis.
Finally, candidates were screened against the Formula for Great Geek TV.
The final contenders were ranked according to the passion of their respective fans, size of fanbase, series longevity, the endurance and impact of their legacies, the pervasiveness of their franchises (spin-offs, movies, comic books, t-shirts, midnight showings of classic episodes at local movie theaters, etc.), and–ultimately–their adherence to the Formula.
And, of course, the final ranking is a result of my subjective–yet painfully well-informed and objective–interpretation of these criteria. Enjoy.
The Best Geek TV Shows of this Generation
30. Space: Above and Beyond
29. Dead Like Me
28. Clone Wars
27. Mystery Science Theater 3000
26. Farscape
25. Stargate SG1
24. Wonderfalls
23. Smallville
22. Carnivale
21. Alias
20. The 4400
19. Sliders
18. Veronica Mars
17. Batman: The Animated Series
Justice League Unlimited*
16. Freaks and Geeks
15. Futurama
14. Arrested Development
13. Family Guy
12. Jericho
11. Twin Peaks**
10. Doctor Who
9. Babylon Five
8. Heroes
7. Quantum Leap
6. Battlestar Galactica
5. Firefly
4. The X-Files
3. Star Trek: The Next Generation
2. Lost
1. Buffy The Vampire Slayer
* As Kelson points out in the comments, Batman: TAS and JLU are both from the same canon. In fact, Bruce Timm was a producer on both. My love for JLU clouded my judgment. Therefore, JLU gets booted from the list, and Batman: TAS–as the seminal work that opened up a whole new genre of animation–remains.
** I was bound to make one or two gross oversights, and this was one of them. Thanks to Jordan Lund for reminding me about Twin Peaks in the comments.
Honorable Mention:
Jake 2.0
Spaced
Hex
Brimstone
Eureka
Not considered, for even a second:
Birds of Prey
The Dead Zone
Highlander (Every episode is further insult to the original movie.)
Ok, let's have it. Thoughts? Comments? Concerns?