If you've never heard of "jumping the shark," perhaps you're more familiar with its first cousin, "screwing the pooch."  Same idea: nothing good can happen after you screw a pooch.  Just look it up.  Scientific fact.
From Wikipedia:
The term Jumping the shark alludes to a scene in the TV series, Happy Days, when the popular character, Arthur "Fonzie" Fonzarelli, on water skis, literally jumps over a shark. The scene was so preposterous that many believed it to be an ill-advised attempt at reviving the declining ratings of the flagging show.

Since then, it has become a metaphor that has been used by U.S. TV critics and fans to denote the point at which the characters or plot of a TV series veer into a ridiculous, out-of-the-ordinary storyline. Typically, such a show is deemed to have passed its peak. Once a show has "jumped the shark," fans sense a noticeable decline in quality or feel the show has undergone too many changes to retain its original charm.
I couldn't have said it better, myself.  Even though I obviously felt the need to try.  With an upsetting metaphor.  Sorry about that.
Wondering when 30 Rock jumped the shark? Some people think it was season five. At least, that was one of the seasons least-enjoyed by critics.
If you're interested in learning more about the creation of the show from the super-funny lady who did it, I'd recommend checking out Tina Fey's hilarious memoir, Bossypants. Amazon named it a "Best Book of the Month" for being "impossibly funny." (!)
Buffy The Vampire Slayer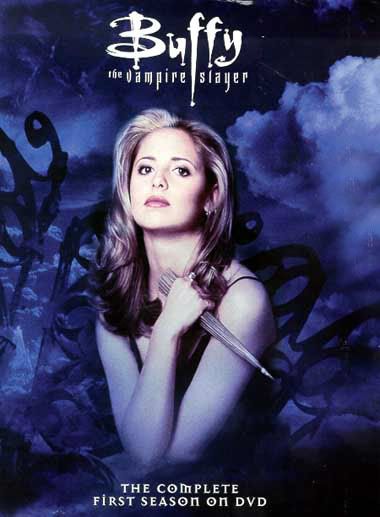 Hey, remember the first time Buffy died?  And then she came back?  And totally kicked the Master's bony, vampire ass?  Yeah.  That was awesome.
Hey!  Remember the second time Buffy died?  After taking on a GOD?  And then she came back?  AGAIN?  Yeah.  NOT SO GREAT.
If Buffy had ended at the end of season five, it would have been heartbreaking.  But you know what?  It also would have been poignant, powerful, and somewhat satisfying… I mean, she died after facing off against a GOD, people.   (Did I already mention the GOD?)
After triumphing over countless vampire and demon baddies, a master vampire, a giant serpent demon, the seemingly unstoppable Frankensteinian creation of a shadowy military organization, and a GOD…  where can you go after that?!
Well, to the UPN network, for one… and no one could have thought that boded well.
You know where else you go?  To Contrivancetown, USA.  'Cause after the writers have blown their creative wads pitting Buffy against a GOD, they were left with a B-movie premise for season six (The toughest foe she'll have to face is the one she never expected… her best friend) and a hey-what's-even-bigger-and-badder-than-a-god? premise for season seven.  The actual answer to that question is nothing.  Nothing is bigger and badder than a god. Their answer?  The "ultimate" evil.  Or, as they called it, "The First Evil."  That's thinner than Britney's last excuse for forgetting to feed her baby.
Yes, some good came of the sixth and seventh seasons.  We all enjoyed the musical episode, Once More, With Feeling.   But I loved that show so damn much.  Why couldn't it have ended on a high note?
Twin Peaks
For writers whose show received so much acclaim, they apparently didn't spend much time reviewing their copies of TV Show Writing for Dummies.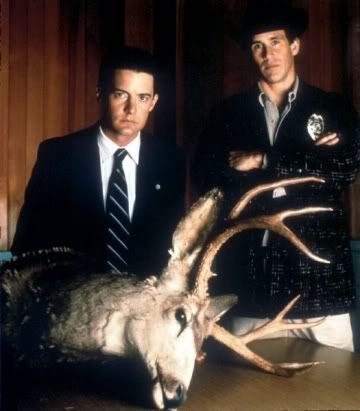 Otherwise, they would have been aware of the Moonlighting effect.  When you build the show upon the sexual tension between Bruce Willis and Cybill Shepherd and then finally let the two of them make out, you might as well take the show out back and shoot it, because the draw ain't there any more.
So, Twin Peaks.  You have a showed whose plot revolves around a murder mystery.  You solve the mystery.  The show shrivels up and dies.
Questions?
Veronica Mars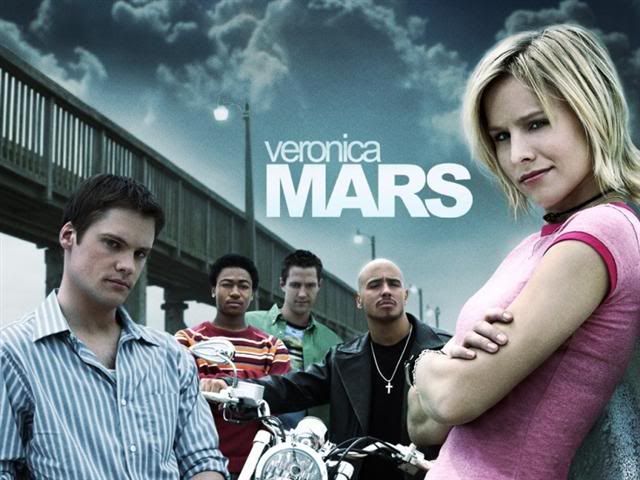 Oh, Veronica Mars.  You know you're my favorite pocket-sized teen detective.  And so delightfully quippy with your… quips.
The mystery of the first story arc encompassed the entire first season… and it was brilliant, satisfying television.  Brilliant enough to keep fans around (but sadly, less engaged) for the next two seasons.
By all indications, to try to improve ratings in the second season, producer Rob Thomas caved to Big Corporate pressures to make the show more palatable to the masses.  And we all know what that means: dumb things down.  Suddenly Veronica was solving two or three "big" mysteries in a season.  By the end, it was practically a "contrived TV mystery of the week" formula.
When storytelling went out the window, so did a little piece of my heart.  And not the cold, dark part of my heart where I store my pity for Republicans and George Lucas.  The other part.
Alias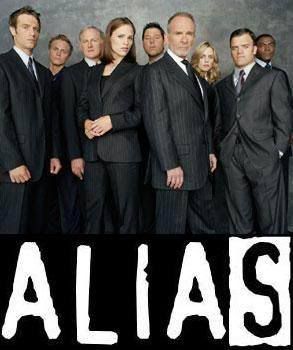 Alias writers, no one ever accused you of being brilliant.  So you probably didn't even get your copies of TV Show Writing for Dummies when you got to Hollywood.  But you sure did put together a fun show.
That is, until you blew your wad.  You know what I'm talking about.  In one episode, you took down the "big Bad," the terrorist organization SD-6, and you got Sydney together with whats-his-face.  You know.  Michael Vartan's character.  That guy.
What followed–from what I gather, since I quickly tuned out–was a show about an incestuous, top secret spy agency that put its considerable resources towards gathering the artifacts of a really smart Renaissance artist.  Wow.  How about, like, fighting terrorism or whatever?
Jennifer Garner in red leather can only keep my interest for just so long.
Angel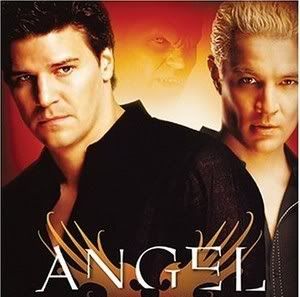 It's hard to put a finger on exactly when Angel jumped the shark, but I know what happened when I finally gave up.  It went a lot like this:  Around the middle of season three, after weeks of feeling an overwhelming sense of I-don't-really-give-a-shit-any-more towards the show, I said–very much like a petulant Valley girl–"Um, b-o-o-o-red now," and removed Angel from my TiVo's Season Pass list.  I didn't tune back in until the series finale.  The End.
While other shows make a fast and furious face-plant when they jump the shark, Angel took its time.  It was more like a slow, spiraling plummet towards inevitable doom.  Here's the deal.  Angel was interesting when it was about the vampire-with-a-soul saving innocents from the seedy elements of the underworld.  The dark, mysterious, and exciting underworld.  Over time, unconcealed demons and supernatural phenomena became so prevalent in Angel's Los Angeles that you had to wonder just how very deaf, dumb, and stultifyingly stupid the human inhabitants of the city really were.   Somehow it's just no fun any more when Angel, the aforementioned vampire-with-a-soul, is the head of a multi-national law firm and seemingly hundreds (thousands?) of civilians are both aware of, accustomed to, and familiar with supernatural beings and happenings.
There's suspension of disbelief, and then there's, "Oh, c'mon!  Are you frigging kidding me?"
That said, I'm totally reading the comic when it comes out this Fall.  I'm such a sad little fanboy.