Assuming you don't just get your news from TMZ.com, you know that Marvel Comics killed off Steve Rogers, the original Captain America, a few months ago in a ploy to get mainstream media attention for about a day-and-a-half. The whole thing was more cheap and dirty than Paris Hilton in a Tijuana donkey show.
Today, Marvel unveiled images of the all-new Captain America, to be introduced in upcoming Captain America issue #34.
Um. He's shiny.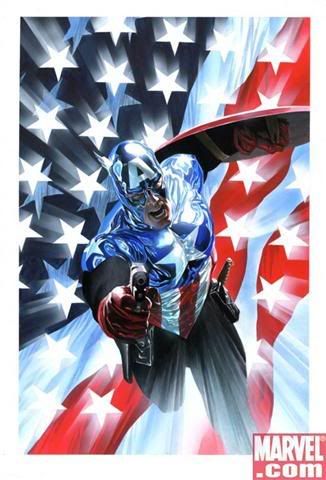 And the problems don't stop there. He's carrying a mother-humpin' gun, ya'll!
(Now look what you've done, Marvel. I'm talking in my petulant Britney Spears voice.)
The original (and the best) Captain America had a strict no-killing policy. It's what separated him from being a primary-color-clad version of the Punisher.
Is the new Cap operating sans-scruples, or is he just out to kneecap some bitches? Either way, the Captain America mantle and firearms do. Not. Belong. Together. In fact, this has inspired me to create a list of combinations that just aren't right, ya'll.
Spider-Man with a tail.
Michael Jackson in a bar fight.
Smallville with a sense of irony.
Bill O'Reilly with a ponytail.
The Highlander with a crewcut.
Yoda in gang colors.
John Kerry with a drawl.
Indiana Jones with a lisp.
Jack Bauer with unusually low blood pressure.
Sony with a jump on Apple.
Dick Cheney with a big ol' cuddly bear hug.
Charlize Theron with an oozing lip sore.
Bret Ratner with an Oscar.
A Terminator with a live, working liver.
A nerd with biceps.
America with ill-will for Will Smith.
Mel Gibson with a yarmulke. (A Jewish beanie. You're welcome.)
Bill Gates with a Mac.
Steve Jobs with an uncalculated move.
Kanye West with quiet, reflective time.
Condi Rice with a Yakuza back tattoo.
A Very Special Family Guy
Moonlight with a cult fan following. (God, that show sucks so hard.)
Optimus Prime with contemporary slang like, "My bad." Oh…. wait. (Screw you, Michael Bay.)
* Note: This "X-treme!" version of Captain America is exactly what I feared Marvel would produce.