If I've got the (reliable and not-too-flashy) Toyota of Batman tattoos, then Great White Snark reader Lara has the Lexus. And not the base model. I mean the fancy one with the sports package.
Check it out: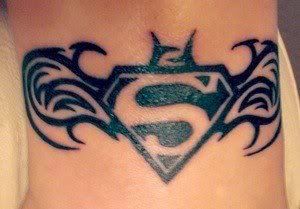 Check out the other sweet Batman tattoos here on Great White Snark.
In her words:
I've got a Batman tattoo, too. Actually, a tribal-ized version of the Superman/Batman logo. … One of my friends made the design, from the original Batman/Superman logo, which I thought would have been much too dark. It's on the outside of my right ankle.
On the same day she got her ink done, one of her friends got an anklet design with five Superman shields linked together by a chain.
Damn. And my friends give me grief for wearing my favorite Green Lantern t-shirt too often. Bless you girls. And thanks for sharing!
If you've got some distinctive geek body art you'd like to share, let me know and I'll showcase you in your own post. And, apparently, I'll gush over you and stroke your ego, too.
Enjoy this post? Subscribe to Great White Snark by email or by RSS.