I'm all a-tingle. Suddenly I'm only two degrees away from fanboy darling, Kristen Bell. Well, practically.
Televisionary's Jace, a blogger buddy I met in July at Comic-Con, scored an interview with her this week.
(I say "scored" as if this was some big coup for Jace, but he lands interviews with big muckety-muck TV stars pretty much all the time.)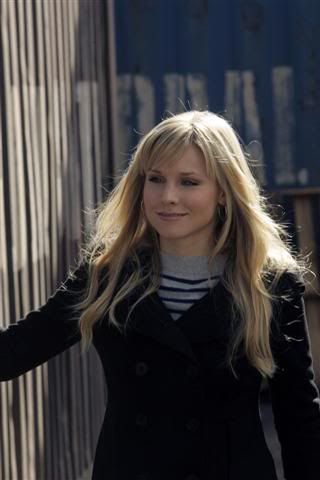 Look! She's about to do something cute!
Jace did a commendable job of getting the scoop on Kristen Bell's upcoming role on Heroes, putting to rest the rumors around her supposed flirtation with Lost, and uncovering some of her geeky and not-so-geeky guilty pleasures, like America's Funniest Home Videos. (America's Funniest Home Videos? Is that still around? Maybe it's just a Hollywood euphemism for YouTube.)
By the way, Kristen, I know you were mostly pandering to us fanboys when you said you recently went to that double-feature of Tron and The Last Starfighter, but… I don't care. Thank you for keeping the dream alive. Specifically, that dream where cute-as-a-button little Kewpie dolls of Hollywood starlets say things like "wowzers" and go to see double-features of classic geek films.
You're neat.
…and I could go on. And by that, I mean I could gush on. I'm not easily starstruck, but I pictured myself in Jace's shoes as I was reading the interview, and kept thinking to myself, "How did he keep himself from giggling madly while reaching out to pet her hair?"
Well, for one, Kristen Bell probably doesn't elicit a manic fanboy response in Jace as she apparently does in me. Which got me to thinking… what words would I choose if I had the chance to meet celebrity geek icons and could say just one thing to them?
To George Lucas, creator of Star Wars:
"Hey, you know that phrase 'past your prime'? Yeah. That's you. About three prequels ago."
To Guillermo del Toro, director of Hellboy and Pan's Labyrinth:
"The gods of Saving Great 1980s Entertainment Properties from Ruination have spoken: You must direct the Thundercats movie."
To Kristen Bell, actress and all-around cutie-patootie of Veronica Mars fame:
"I give great footrubs and can make a mean Thai salmon steak on a George Foreman grill. Here's my number. I'm not saying I'll be waiting by the phone, but… um, I will be."
To Michael Bay, director of Transformers, Pearl Harbor, and Armageddon:
"Where were you when the Sweet Baby Jesus was giving out talent? Taking dialogue lessons from Arnold Schwarzenegger, circa 1986?"
To Harrison Ford, a.k.a., Han Solo:
"You smell much less like Old Spice and charcoal briquettes than I had imagined."
To Bret Ratner, director of the Rush Hour films and X-Men: The Last Stand:
"I'm pretty sure that your movies are the cinematic manifestation of syphilis."
To Michael Dorn, actor who portrayed Worf on Star Trek: TNG:
"Hey, for your role, did you ever have to learn the Klingon translation for, 'Star Wars gives me a bad case of erectile disfunction'?"
To Steven Spielberg, director extraordinaire:
"Dude, I'm ready to give up ten-to-fourteen hours of my life, so when are you going to finish up the next Band of Brothers? The one set in the Pacific. Lay it on me, already."
To David Boreanaz, actor who played the title character of Angel:
"So, first Joss Whedon writes you a storyline that has you spending lots of quality making-out time with Sarah Michelle Gellar. Then he has you making lots of kissy-face with Charisma Carpenter. How many of your children, exactly, did Joss end up with?"
Charisma Carpenter. Worth giving up your first-born? And maybe the next one, too?
To Jorge Garcia, "Hurley" on Lost:
"Please do something about your weight. Morbid obesity has lost its charm."