Sometimes it doesn't take much for a great geeky idea to be soured for everybody.
Like when some pretentious douche-tard tries to piss all over the fun of a zombie flash mob like ZombieCon 07.
(Heh. Finally. An excuse to use "douche-tard". Ah, simple pleasures.)
BEOWULF
The Potential
The epic tale, told in big-budget fashion by master storytellers Neil Gaiman and Robert Zemeckis and acclaimed actors including Robin Wright Penn, Angelina Jolie, Anthony Hopkins, and John Malkovich.
Oh! And P.S., Angelina gets naked.
The Ruination
I'm proud to say I've been bitching about the flaw with this production much longer than most folks: ever since my review of the Beowulf trailer at Comic-Con. I'm an early adopter when it comes to bitching. I'm on the bleeding edge of bitchiness. I'm an outlier on the bitch curve. I'm an alpha bitch.
So what's been stuck in my aggro-bitchy little craw? As I said in July:
Remember that cutting-edge, hyper-realistic CGI movie, Final Fantasy: The Spirits Within? Remember how it, like, absolutely bombed? Well, Neil Gaiman has gotten it into his head that it'd be a good idea to create a flashy, hyper-realistic CGI film of the Beowulf story, with CGI versions of its actors like .

Instead of perfectly good movie with "live" actors, Neil and his creative team decided to muck up these actors by creating almost-perfect likenesses of them for the movie. So, you get something that looks a lot like Angelina Jolie, but has the annoyingly-distracting, soulless movement of a CGI character.
Yeah, you got excited over a naked Angelina Jolie cartoon, dude. Perv.
AEON FLUX
The Potential
Before Adult Swim was even a twinkle in the eye of a Cartoon Network executive, MTV was airing one of the coolest adult-oriented cartoons ever seen this side of the Pacific.
Did I mention current Sexiest Woman Alive, Charlize Theron, donned a suit of tight, black spandex to play the lead character?
The Ruination
One of the weakest production teams since the collaboration that produced The Chevy Chase Show.
First, director Karyn Kusama, whose only previous credit was Girlfight, the boxing movie starring Michelle Rodriguez. Michelle Rodriquez? So, I guess we should have known that Kusama has a stubborn habit of trying to put polish on soulless, one-dimensional turds. Bam!
Also taking blame: the writing team, which you'll remember from their only other work… on Jackie Chan's stillborn stinker, The Tuxedo.
STAR WARS PREQUELS
The Potential
Only the most-anticipated movies… ever.
The Ruination
These movies jumped down a crap slide that began with Jar Jar Binks, accelerated with Anakin and Padme frolicking among the daisies, and finally dropped into the abyss with two solid hours of Hayden Christensen's whiny-ass voice.
DRAGON WARS
The Potential
An army of dragons battling the U.S. military in downtown Los Angeles in a no-expense-spared visual-effects spectacular.
The Ruination
Sure, the seven-minute dragon battle was pretty cool. So, what was the problem? Oh, just. Every. Other. Thing. About. The. Movie.
No other film has been so universally derided as a jumble of meandering, senseless crap since… oh, wait. Never. Dragon Wars wishes it had the street cred of Ishtar.
I know I had fun deriding it. You can check out my Dragon Wars review.
STARSHIP TROOPERS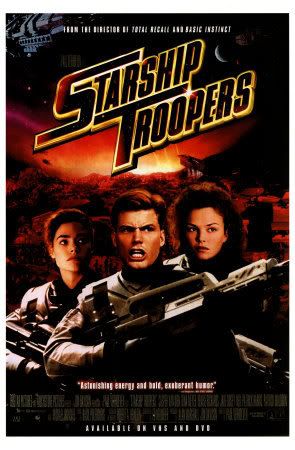 The Potential
A fan-favorite sci-fi novel about an intergalactic war between space marines and armies of giant bugs… brought to life by Paul Verhoeven, the director who brought us the sci-fi delights of Robocop and Total Recall.
The Ruination
Paul Verhoeven, the director who brought us the trainwrecks of Hollow Man and Showgirls.
Starship Troopers played out more like a cheesy daytime Spanish soap opera (albeit with more gringos, explosions, and bare breasts) than the actual war-drama-spectacle fans were hoping for.
I'm not saying it wasn't entertaining. It was. But I don't think I was supposed to derive my primary entertainment value of Starship Troopers from a Doogie Howser appearance and a handful of topless scenes.