Just because there were no costumed fanboys to photograph at today's Hayward Comic-Con doesn't mean I didn't get to gleefully geek out: I had the unexpected pleasure of meeting and chatting with C. Andrew Nelson, a.k.a. Darth Vader.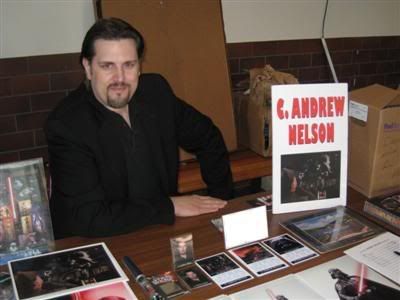 You know the extended scenes with Darth Vader in the special edition of the Star Wars trilogy? Yeah, that was him.
He's been in the official Vader costume sixty-eight times; he's spent more time as Vader than anyone else.
It's him as Vader on the official USPS Star Wars postage stamps.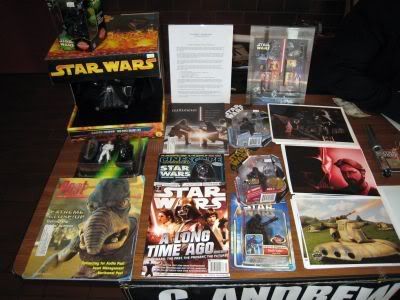 When the 6'5″-tall Nelson was first solicited to don the Vader costume, he was already working as a visual effects supervisor for LucasArts.
He first met George Lucas as an actor on the set of Howard the Duck.
That was him in the Vader costume in the first promotional shots with Hayden Christensen after Hayden was cast for the prequels.
He provided the voice of Luke Skywalker in the Star Wars: X-Wing video game.
After six years at LucasArts, he spent four years at ILM as a visual effects specialist, which included work on two of the Star Wars prequels.
He declined any knowledge of universal derision of Jar Jar Binks at LucasFilm when the first prequel script was released.
Lucas's then-five-years-old son Jet came up with the name for Jar Jar Binks.
He's a total mensch. First, he was incredibly affable with me, and he was selling autographed pictures to benefit the Starlight Starbright Children's Foundation.
Thanks for salvaging a fanboy's trip out to Hayward, C. Andrew.