Adam and Rae let the Force fl-o-o-o-w through them. And through their June, 2005 wedding banquet… in the form of a chocolate Jabba the Hutt cake. The likeness to the original giant gangster slug is striking.
(UPDATE: In fact, as GWS friend and reader Nima puts it, the cake "kinda looks like a turd." Indeed it does, Nima. Know what else looks like a turd? The actual Jabba the Hutt.)
Here's to the lovely couple. Well done, you two! May your children be blessed with all the Star Wars toys that they desire.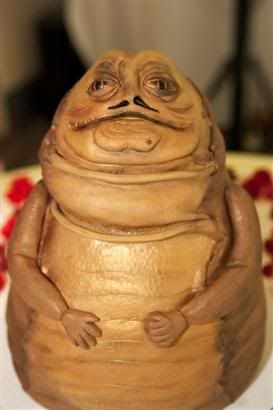 In a triumph for geek gals everywhere… this was Rae's idea.
See an amazing new Star Wars cake or other geeky curiosity every week: Subscribe to Great White Snark by email or by RSS. It's free.

Damn. I bet it tasted good, but Jabba's tail in any form remains unappetizing.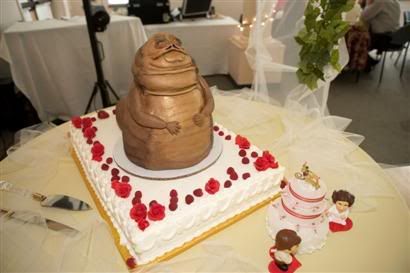 Han and Leia flank a little Salacious Crumb cake.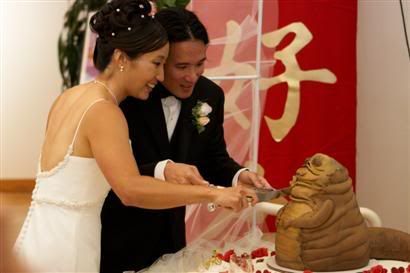 Who's got the weak mind, now, Jabba?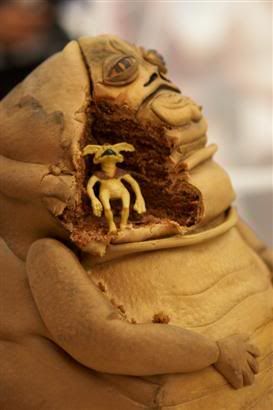 Salacious Crumb has the last laugh. Or, cackle.
For more pics of the cake and of the event (Hey! Those geeks look just like real people!), check out the gallery on SmugMug. Otherwise, maybe I Dream of Cake in San Francisco will make another Jabba cake for you, if you ask real nice. And give them American dollars.
UPDATE: Adam stopped by the comments to share a link to copies of their geeky wedding invitations. And they… are… ridiculous. In an awesome way. Artfully-done homages to Top Gun, The Two Towers, Casablanca… the list goes on. Check it out.
Thanks to Great White Snark reader Jay for giving me the heads-up on the cake and the wedding banquet, which I can only hope will strongly resemble my own. Especially with all of the Asian aunts and uncles.
Enjoy this post? Subscribe to Great White Snark by email or by RSS.