« Jabba the Hutt Wedding Cake – Geeky Cake of the Week | Main | Great White Snark Says: New Post Later Today »
By Great White Snark | December 5, 2007
Slashfilm just confirmed this evening that Ray Park–most commonly known as The Dude Who Played Darth Maul in The Phantom Menace–has been cast as good-guy ninja Snake Eyes in the upcoming live-action G.I. Joe film. The role shan't be much a stretch for the martial-artist-turned-stuntman-turned-actor. (You know, especially since the character is mute.)
This leads to the question on every geek's mind: What the f*&% was up with the Heroes finale on Monday?
Ok, so… the question right after that: Which actor should play Snake Eyes's evil ninja counterpart, Storm Shadow?
UPDATE: The casting of Storm Shadow goes to Byung-Hun Lee, a Korean "mega-star" and American nobody.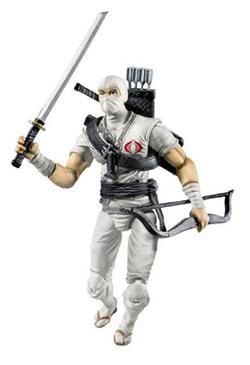 What say you?



[poll=4]
If you enjoyed this post, consider subscribing to Great White Snark by email or by RSS.
You may also like these stories:
Topics: Movies | 4 Comments »
4 Responses to "Reader Poll – Who Should Play Storm Shadow in the G.I.Joe Movie?"
Comments