You've got to love Sherri's sense of humor. She's probably the type of lady who'd have a Soviet Gulag cake at her wedding shower.
For her baby shower, she made an Alien "chest burster" cake, complete with a bloody syrup garnish. Because what says "Congratulations on the Baby!" better than a wiggly little monster ripping its way out of a body?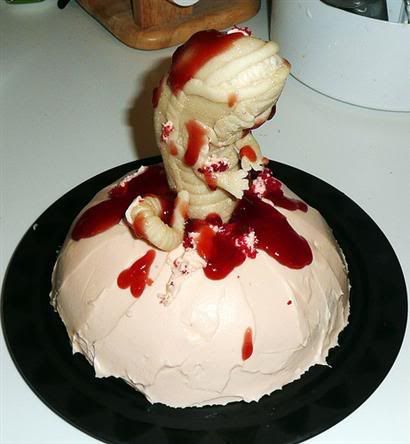 This cake was born out of a perfect storm of geeky motivations: a "food geek" with a "morbid sense of humor" who "loves Aliens" and sci-fi was having a baby. Sherri "thought it was a great baby shower concept."
So do I, Sherri… so do I. But my friends and I used to shoot bottle rockets at each other for fun, so you might want to take my judgment with a grain of salt.
Sherri sculpted the baby alien from marzipan. I wonder who got to eat the sweet little bastard.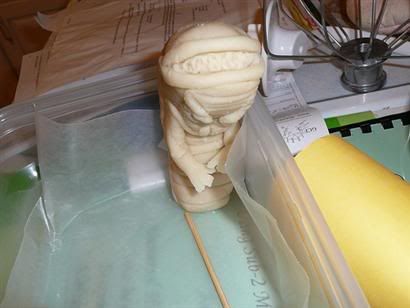 Sherri "considered adding the top hat and cane" as a "Spaceballs gag," but "didn't have time." Too bad. But perhaps then the bloody mess would have lost some of its dramatic effect. And we wouldn't want to take any of the shock value away from your baby shower, now, would we?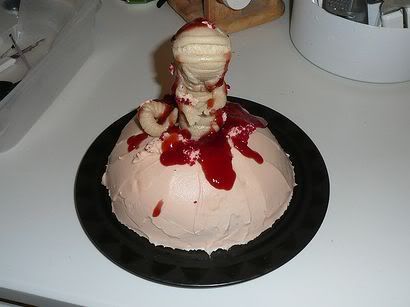 The cake was red velvet (of course!) with cream cheese icing. I've never wanted to eat alien baby so badly before in my life.
You can check out the full set of pictures in mal00005's Flickr gallery. Thanks for sharing the goodness, Sherri, et al.!
Find alien cake toppers on Ebay