I had a healthy amount of pride in my little Batman tattoo right up until the time this here blog started to hit its groove.
Then I realized two things. First, I'm far from the first dude in the world to get a Batman (or even a superhero-themed) tattoo. Second, as far as Batman tattoos go, mine falls dramatically to the 'unimpressive' side of the scale.
Even those among the GWS readership have demonstrated more artistry–and certainly more commitment–with their Batman symbol tats.
But nothing I've seen thus far in my geekadelic travels compares to the beautiful, hyper-realistic work of tattoo artist Nikko Hurtado of Ignition Tattoo in Apple Valley, CA.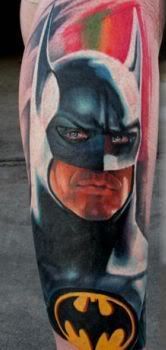 So lifelike, you'll want to reach out to touch Michael Keaton's chin stubble. But all you'll get is leg hair.
Check out the other sweet Batman tattoos here on Great White Snark.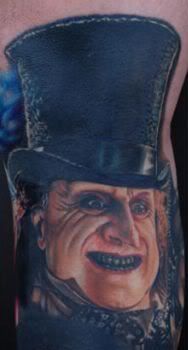 Don't you look at this and hear his cackle in your head?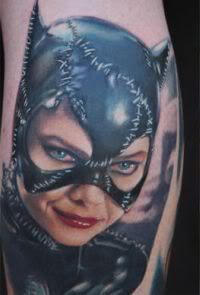 How'd you like to wake up for the rest of your life and look into those creepy-ass eyes?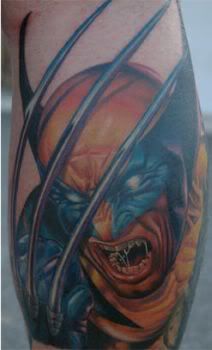 Happy or sad?
Nikko's genre work isn't limited to comic book characters; he's also completed an impressive set of classic movie monster tats. You can check out all the goodness (including higher-rez images of these photos) in his portfolio of work on the Ignition site.
I tried to arrange an interview with Nikko, but, alas… to no avail. Not a single response to my admittedly overly-exuberant e-mails. Not even a "Leave us alone, we're too busy being tattoo-artisting badasses to humor a geekazoid like you."
Oh, well. We'll always have the internets.
Want to see more Batman tattoos and other geeky curiosities? Subscribe to Great White Snark by email or by RSS. It's free.