Several weeks ago, I profiled the work of Sandra, a "mum, nanny, and cake decorator" from Australia, who graciously provided online, step-by-step instructions for her impressive Yoda cake.
It seems Sandra has taken on a Padawan learner. And much potential she has, mm-mm.
(Um, that last bit was my Yoda impression. What we've learned here is that I should stick to my Britney impressions. For reals, ya'll.)
Sandra's 'apprentice' Schmish (true identity withheld to protect the sanctity of the Jedi training regimen) used the guidelines in the online instructions to produce a Yoda cake in her own distinctive style.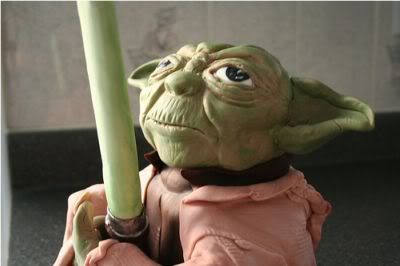 In a Geeky Cake of the Week first, Schmish created the frame for the fondant-covered lightsaber with spaghetti.
See an amazing new Star Wars cake or other geeky cake every week: Subscribe to Great White Snark by email or by RSS. (It's free!)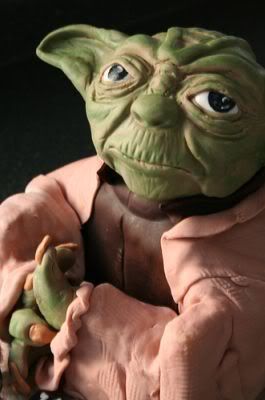 That's yellow cake under there, with vanilla buttercream. His fingernails were crafted from the actual toenails of Womp rats snared in Beggar's Canyon on Tatooine.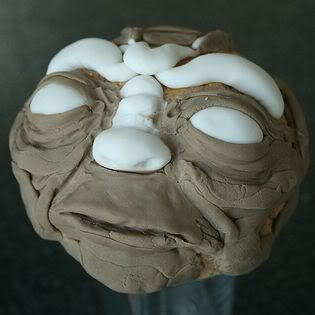 Lest you think that this cake went Krispie-free, the head is a fondant-covered ball of Rice Krispie.
Nicely done, Schmish. Thanks for sharing, and best of luck with your Jedi training. Don't take any shit from that Anakin dude.
Check out Schmish's other uber-creative cake work (like the death by chocolate eyeball soup cake) on her Flickr photostream.
Enjoy this post? Subscribe to Great White Snark by email or by RSS.