When I was a kid in high school, I wanted to grow up to become either a full-time serial-killer-profiling forensic psychologist… or a high-end home theater installer.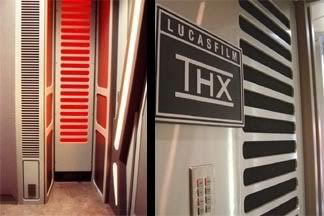 Clearly my S.D.A.D.D. (self-diagnosed attention deficit disorder) crept into every facet of my life. At least I managed to keep my wildly disparate goals specific.
Forensic psychology turned out to be a poor fit. What some might call a "weak stomach," I like to think of as "preternatural empathy." (Because that way I sound less like the squeamish schoolgirl that I am, and more like a wizard.)
As far as my future as a professional home theater installer… well, let me put it like this: just because I enjoy assembling the perfect IKEA bookshelf for my living room doesn't mean I should become an interior designer. (Unless you subscribe to my "everything looks good with black" approach.) I eventually figured out that building a great home theater for myself is a lot more fun than building one for someone else.
Of course, as a home theater enthusiast, I haven't I've given up on 1) saving everyone I know from the rip-off of Monster Cables (try Blue Jeans Cables), or 2) the idea of an America where everyone has a properly-calibrated HDTV.
Because everyone should enjoy the best home theater experience possible, and you've got to start somewhere… even if it's with your cables. And, who knows, maybe you'll eventually catch the upgrade bug (as I have), and dream of the day when your screening room will feature Electric Avenue Motorized Home Theater Loungers, seven surround speakers, a 100-inch screen, and a life-sized statue of Boba Fett guarding your powered amplifiers.
Or something like that.
5) HOME THEATER MODELED AFTER SKYWALKER SOUND'S "THE STAG"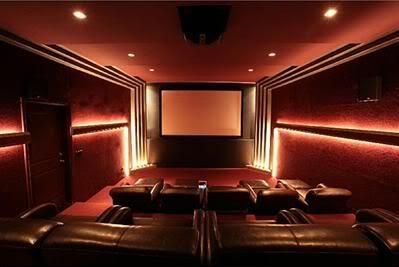 No, this one isn't sporting any collectible props, classic movie posters, life-sized models of iconic movie creatures, or even a popcorn machine.
So what makes it so geeky? Johann Peters spent $100,000 creating this replica of George Lucas's "The Stag," a demo theater where Skywalker Sound showcases the latest in visual and audio nirvana.
Basically, it's the Holy Grail of movie-watching. I could even see how someone doing postproduction work on Transformers here could have mistaken it for a decent movie. Sort of like how sitting in the back of a Bentley suddenly makes traffic more tolerable.
4) INDIANA JONES HOME THEATER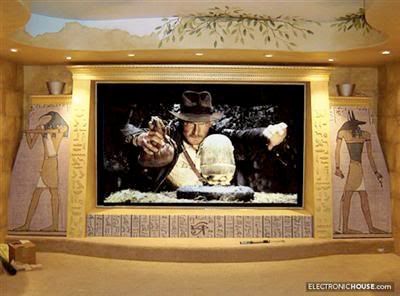 Installer Doug Charrois used replicas of the Holy Grail, a jacket, hat, whips, torches and heiroglyphics laser-cut from 1/4-inch-thick MDF to create this giant shout-out to the Indiana Jones movies.
I can't help but notice there's no replica of Mola Ram's hand clutching a still-beating human heart. Oh well… still a handsome effort.
3) BATCAVE HOME THEATER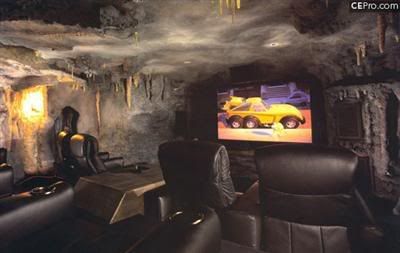 "Cave" doesn't say "comfort" to me (especially with those fake bats hanging from the ceiling), but the owner is a retired naturalist who spent a lot of time in caves (including a real bat cave) during her career. So she's probably right at home. Bless her geeky little heart.
2) STAR TREK: THE NEXT GENERATION HOME THEATER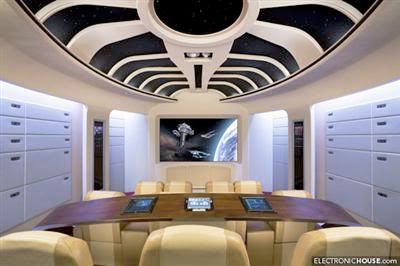 Chosen as the top "theme theater" for 2007 by the Custom Electronic Design and Installation Association. The details are sickening:
Highlights include motion-activated air-lock doors with series sound effects. There's even a "Red Alert" button on the Crestron TPMC-10 controller to turn all of the LEDs bright red and flashing, along with the actual sounds from "Star Trek" blaring.
Pretty sweet. Assuming you're not insulted by a $100,000+ homage to Star Trek.
1) STAR WARS DEATH STAR HOME THEATER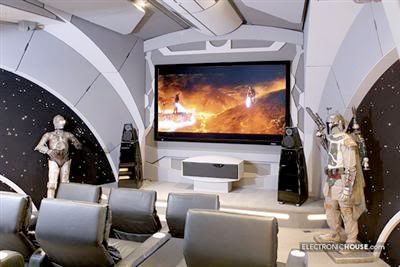 This amazing fanboy's playroom, which is modeled after the control deck of the Death Star, features an automatic sliding door in the entrance, a secret door behind a carbonite Han Solo that leads to the media room, and a life-size C-3PO and Boba Fett.
Check out the geek cred of the players who brought this home theater to fruition:
Owners Vic Wertz and Lisa Stevens used to run the Official Star Wars Fan Club and "Star Wars Insider" magazine. They've got a 3,000 square-foot museum of Star Wars memorabilia in their home. To design the theater, they recruited Doug Chiang, the lead designer on episodes I and II of Star Wars. Finally, to finance the theater, they sold their ever-lovin' souls to George Lucas and his seventeen adopted children.
Can't get much more immersed in Star Wars than that.