Don't get me started on the forthcoming Street Fighter movie. Which is being produced concurrently with a Tekken movie. Ahead of yet another Mortal Kombat movie.
I know this sounds like the start of a rant, but seriously… don't get me started. Where an entertaining blog post will eventually form in my mind, there is currently one of those swirling balls of dust from a Road Runner cartoon that has random appendages shooting out of it. Grr.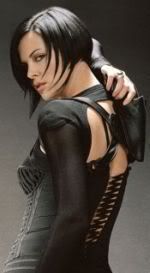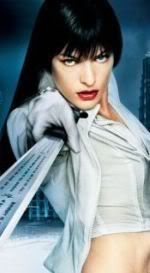 In the meantime, let's take a look at another exercise in excessively lame and redundant movie-making: the freak-show-mirror-image films Aeon Flux and Ultraviolet.
Both films feature tall, skinny supermodels in skin-tight outfits with preternatural combat skills. These two stone-faced ladies shoulder noble, against-the-odds campaigns against corrupt leaders of their respective governments in glossy, artificial-looking futuristic societies. And they both kill hordes of Bad Guys in the most highly-choreographed, acrobatic, stylized, sexy, and ridiculous possible ways, with the aid of wacky futuristic weapons.
Looking for more movies like Aeon Flux and Ultraviolet? Check these out:
So which of these two me-too films is just a little less insulting to the senses?
1) Aeon Flux pissed on a perfectly good cult franchise, while Ultraviolet didn't piss on anything but itself.
Which is fine, because Ultraviolet is a toilet bowl of a movie.
ADVANTAGE: Ultraviolet
2) Charlize Theron is the Sexiest Woman Alive. Milla Jovavich is not.
Plus, Charlize sports more tight leather outfits in her movie.
ADVANTAGE: Aeon Flux
3) The collective reviews of Aeon Flux gave it a score of 36 out of 100 on Metacritic. Ultraviolet got an 18.
That makes Ultraviolet exactly half the crappy movie of Aeon Flux.
ADVANTAGE: Aeon Flux
4) Your average Joe Shmoe has actually heard of Aeon Flux.
Neither Dennis Kucinich nor Mike Gravel has a good shot at the Democratic Party nomination, but at least people know Kucinich's name. Ultraviolet is the Mike Gravel of crappy, futuristic, sexy-lady-assassin movies.
ADVANTAGE: Aeon Flux
5) Every scene in Ultraviolet looks like it was treated by an airbrush the size of a fire hose.
At least Aeon Flux had the courtesy to present its artificial-looking environments in a clear, sharp picture.
ADVANTAGE: Aeon Flux
6) Aeon Flux sullied the good name of actor Frances McDormand.
Meanwhile, almost no actor who appeared in Ultraviolet actually matters.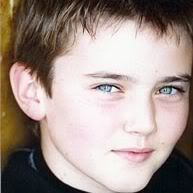 What? That stoic kid from X-Men 3: The Last Stand? Nah, his career's death rattle started with Birth and Running Scared.
ADVANTAGE: Ultraviolet
Well, that settles it. Between two very similar movies that are both quite difficult to choke down, Aeon Flux is marginally more palatable.
WINNER: Aeon Flux
The producers must be so proud.