Blogger Nima of Equinox of Insanity has awarded Great White Snark the Best New Blog I Discovered award, saying:
GWS's humorously geeky news and views has quickly become part of my morning routine, and has inspired posts of my own. It's easily the best geek-centric blog out there (and there are a lot of those).
Did you hear that, people? He said, "the best." Shucks. That's just like me to strive for "perfectly adequate" and completely overshoot my goal.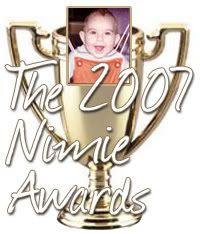 Sure, I've received awards before, but most of them have come from the team of outsourced Indian labor that I hired last year to periodically send me accolades and encouragement in an effort to sate my voracious ego.
This award actually comes straight from a respected fellow blogger who is in no way in my employ or under the influence of my considerable hypnotic powers.
So, thanks, I say to you! Now that we're doling out recognition, I'd like to point out Nima's sharp wit, keen use of the written language, and–of course–uninpugnable taste. Many bloggers mistake a "rant" for interesting content, but Nima can skillfully elicit a hearty laugh with every tirade. The man's anger is hilarious.