Let me disclaim this post by saying that a chimp with one arm and a sneezing fit can decorate a cake more adeptly than I can.
But the part of my brain that makes jokes at the expense of others (who are clearly more talented than I am) is as artistic as they come. We all have our talents.
5) VADER COOKIE CAKE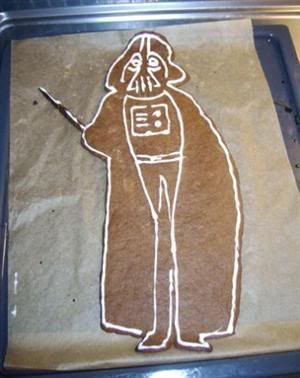 Apparently this Vader attended the Hogwarts School of Jedi Training because–if I'm not mistaken–that's a magic wand he's holding, not a light saber.
4) GOOEY VADER CAKE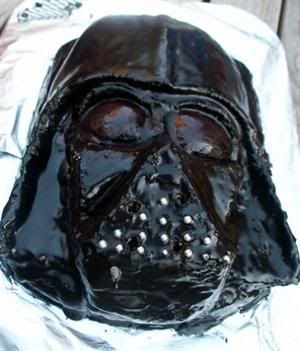 This is actually quite a reasonable facsimile of Darth Vader's visage. (Which makes sense, since the creator used a mask from Wal-Mart as a mold.) Unfortunately, it appears to have been fashioned out of hot, gooey tar, which is quite inedible.
3) SOFT VADER CAKE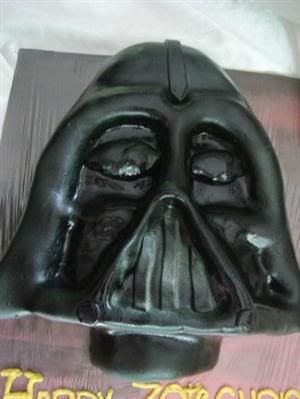 This hand-sculpted Vader cake makes me feel all sentimental. I imagine this is what his reflection looks like when he gazes into a reflecting pool. After playing with his puppy in a field of daffodils.
2) BIG-BROW VADER CAKE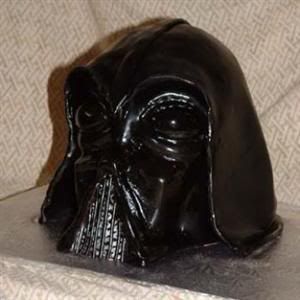 Who knew that all you'd have to do to make Darth Vader appear even more sinister is give him a protruding, Cro-Magnon-style brow? Grr.
1) ANAKIN CAKE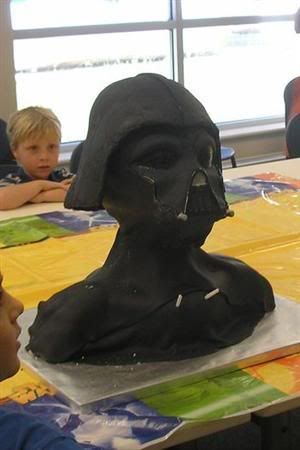 Seemingly harmless. Especially with those two candles sticking out of his sternum.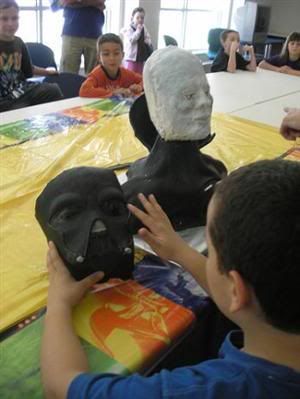 No, wait, kid, don't touch that mask!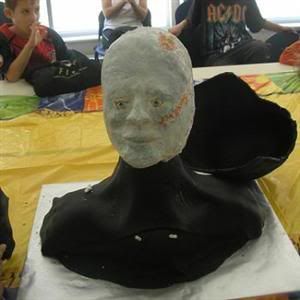 Well, there goes my appetite. Who wants the first piece? You want scar, or no scar with that?
Enjoy this post? Subscribe to Great White Snark by email or by RSS.