The classic State Fair is no longer just a confluence of pure-bred cattle, 70-pound mutant tomatoes, and various meats-on-sticks. Nationwide, these fairs have become platforms for serious, competitive pastry artisans (both amateur and professional) to showcase their impressive works.
Behold the first-place winner of the 2006 California Mid-State Fair's 'Professional Decorated Cake, Themed Cake' category.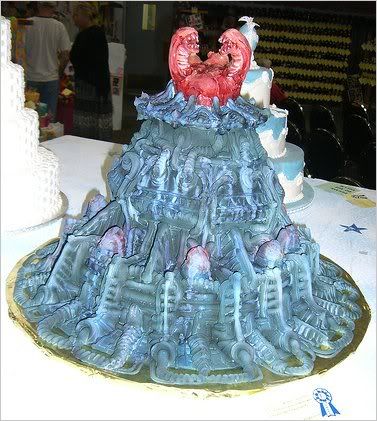 Wow, eh? The artisan, Dan O'Connor, decorates cakes for his brother John's bakery, SLO Baked, in San Luis Obispo, CA. According to John:
The frosting was just tubed on, the goo, for lack of better word, was a corn syrup mixture. The red alien on top was an original sculpture that Dan created out of a clay like substance.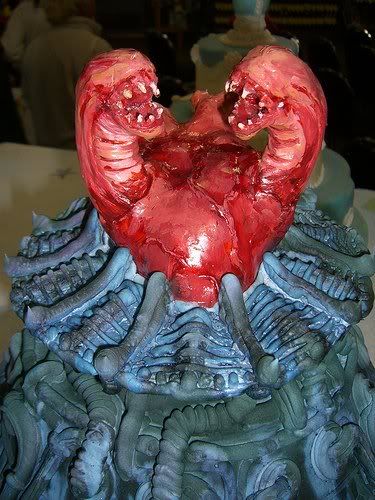 You wouldn't want to cut a slice of this masterpiece. And not just because you don't take a pastry knife to a Picasso. Since this was a show cake that needed to survive for weeks, Dan used Styrofoam under the frosting in lieu of cake to give it sturdiness and longevity.
Dan's uncanny artistic skills extend to more conventional cakes, as well. Engaged couples send pictures of themselves to Dan, who sculpts likenesses of the brides and grooms to use as toppers on their wedding cakes.
Good to know who to call when I next feel compelled to put a likeness of myself (in Jedi garb, of course) on a cake. That'll be soon. Right after I figure out how to draw my likeness with syrup in the cream floating on top of a Starbucks mochaccino.
Thanks to Dan and John for sharing the details, and thanks to Brian for the fantastic photos! (Click on the photos above to see higher-rez versions in Brian's Flickr photostream.)
If you like the Heart-Bursting Aliens cake, check out the Alien Chest-Burster cake.
Enjoy this post? Subscribe to Great White Snark by email or by RSS.