When I gave you the scoop on Terminator: The Sarah Connor Chronicles pilot, I said that this highly-polished, entertaining hour of television had officially hooked me with its faithful treatment of the Terminator canon.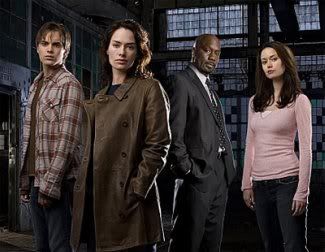 And then I believe I said a thing or two about Lena Headey being The Hotness.
I've still got a wait-and-see attitude with regard to the promised "reinvention of the Terminator franchise" that will fully develop in future episodes, but I'm more optimistic than ever after watching tonight's "for air" version of the pilot on Fox.
What say you, good people, now that you've had a chance to screen the show? (And don't forget the next episode airing tomorrow, Monday, night.)
UPDATE: In spite of the popular "eh" sentiment in the poll results, T:TSCC scored the highest-rated broadcast debut among scripted shows in the past three years, and had the biggest debut of this season for a show in any format.  Bionic Woman… it's not.
[poll=8]