With his amazing (and tasty) model of The Battle of Pelennor Fields at Minas Tirith burning up the internet tubes this week, creator Dave of the Miss(ed) Manners blog kindly offered to give me some exclusive details on this Lord of the Rings-inspired family-holiday-project-on-steroids.
Well, to start off, the entire structure was made from cardboard and hot glue, which may be a little bit of a let down since that means the whole thing isn't edible. However gingerbread is a monumental pain in the ass to work with. If you check out the post on my site entitled, "The Builders Gallery" you can see what some mid-construction shots.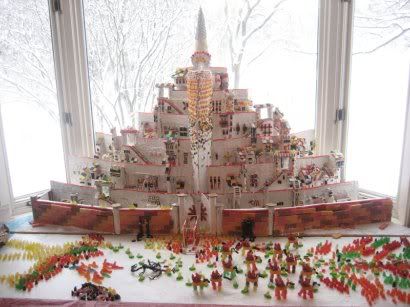 Sure, there's cardboard and glue holding the whole thing up, but how about all of those epic details crafted out of icing and candy? I started to count all of the gummy bears, but I lost track around 500. When I got distracted by something shiny.
All in all I'd say the whole thing probably cost about $200, which just meant my family got slightly less awesome Christmas presents than usual.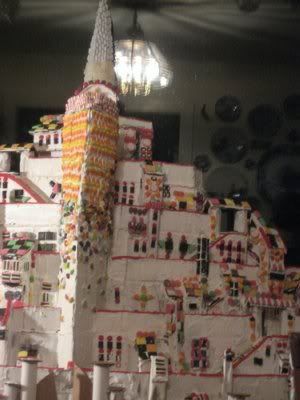 So, does the urge to spend $200 on icing and candy strike you from out of the blue, or do you warm up to that sort of thing? Like, by spending $100 on Lord of the Rings Lego sets to create Christmas table centerpieces or something. Except clever. Not like what I said.
The lead up to this little creation started three years ago. I was visiting my family for Christmas and talked my brothers and sister into helping me make a gingerbread house. I figured since my younger siblings were getting to the age where they'd be moving out soon we could do one every year as a tradition and hopefully it would further spur them to enjoy our one annual week together.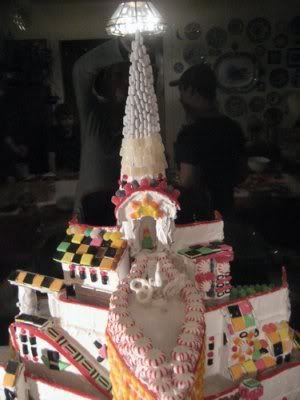 How'd that go?
That was a complete failure. Gingerbread sucks. It needs to be baked and the shapes are hard to fix. Though we DID have a blast constructing ornate window fixtures, balconies and even a tree house.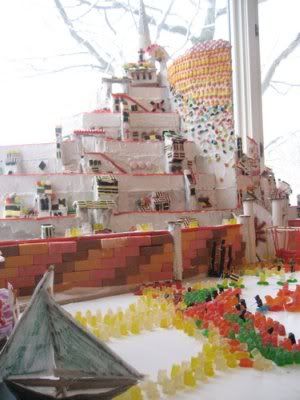 Given the failure of the relatively-simple gingerbread house, you must have had a hard time roping your family into a grander project. Talk about commitment. Since you speak of Christmas, I can safely presume no Jewish-flavored guilt-tripping was involved. Hm. Did you win some sort of high-stakes intra-familial bet?
My brothers and I have always been big LOTR fans. It was either the second or third book that we all read as children, being encouraged to do so by our parents. To them, the only thing more important than brushing your teeth is having a healthy, active imagination. We even have a cat named Strider. So when the original idea failed to live up to our imagination of what an awesome gingerbread creation could be, we jokingly decided to make the Battle of Helm's Deep the following year.
My folks had dogs with LOTR names like Strider, Arwen, and Lothlorien. When I was little my mom tried to turn me gay by enrolling me in dance classes and dressing me in the Chippendales versions of cowboy costumes, though, so I'm not trying to compare my family to yours or anything.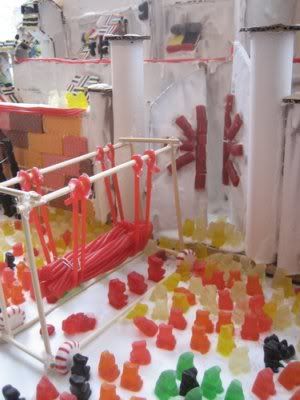 Imagine their surprise when twelve months later I came home and instantly started preparations to build it. We did and response from around the world was so positive we again jokingly decided to one up ourselves. This all led to Minas Tirith.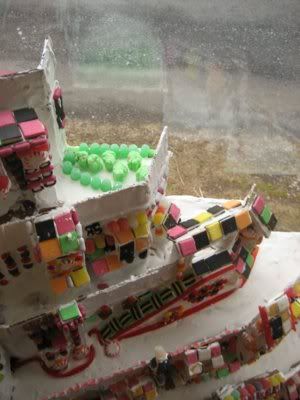 That's right. This isn't the first time Dave and his family have spent a Christmas vacation elaborately recreating a key scene from Lord of the Rings with cardboard, icing, glue, and hundreds of gummy bears. They made quite a splash in the pool of cess that is the Web last year with The Battle of Helms Deep.
Click on any of the photos to visit Dave's blog post about The Battle of Pelennor Fields project and see higher-rez images.
Thanks again to Dave for sharing the story behind this impressive geek undertaking, and thanks to reader Cindi for pointing me to Dave's work before I saw it in my usual trolling of the internets.
UPDATE: The Lego version of Minas Tirith.
Enjoy this post? Subscribe to Great White Snark by email or by RSS.