America has welcomed Cloverfield with $41 million in ticket sales, the highest ever made by a movie in a three-day January weekend.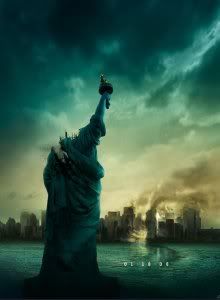 Meanwhile, the theater in which I saw Cloverfield last night greeted the end credits with stunned, silent disappointment and a smattering of "'boos." Oh, and sarcastic clapping from some smart ass. (And, no… it wasn't me.) Some kid even felt compelled to look right at me–a stranger–and say, "That was the worst movie I've ever seen."
I'd hardly call the movie awful, but the friend who joined me and I agreed that in spite of a few genuinely jarring or spectacular scenes, the word that best-encapsulated the movie was: annoying.
Everything you might have read in the reviews is true. The movie is thick with style and interesting visuals, but comes up short on substance like character development. I cared not one iota whether the characters lived or died. And not just because I have something against unnaturally pretty hipsters with distractingly-mediocre acting skills. The entertainingly violent and aberrant cause of death was the only noteworthy part of any main character biting the Big One.
The shaky-cam is awful. I had to look away from the screen several times thanks to motion sickness. I appreciate the storytelling approach of having the characters document the action as it happens with their personal camcorder, but any sense of realism is consistently obstructed by the less-than-perfect acting and casting and the awkward, exposition-ridden script.
Finally, the film doesn't do enough of what it does well–portray the loud, flashy, and fantastic struggles of the military against the monster(s). For a brief second, I longed for the gratuitousness of Godzilla.
So there's my two cents. Obviously, opinions vary. That's why I'd like to hear what you think. No, really… I do.
UPDATE:  Nima of Equinox of Insanity–who frigging loved the film–has posted a wholly-sensible response to my mini-review.  He affirms the validity of a couple of my critiques, but suggests that perhaps the polarized responses to Cloverfield are a result of the variance in which moviegoers believed and connected with the characters.  (And the shaky-cam didn't help.)