This week, on a Very Special Episode of Geeky Cake of the Week:
Kathryn, a cake-making enthusiast from New Zealand, offers this hand-made homage to three of my favorite superheroes: Batman, Superman, and Spider-Man. This vanilla bean and yogurt cake features layers of berry filling and buttercream, and fondant detailing.
(Read just this next part in your best Casey Kasem voice.) But the sweetest part of this tale… isn't in the frosting. It's in the long-distance dedication Kathryn sent out to her friend-in-need, Maara. Here's their story.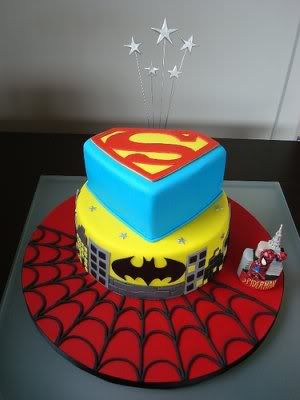 The motivations for creating geeky super-cake–like the ones you see here every week–fall along a broad spectrum of selflessness. Here's me, at the tail end of not-so-selfless:
Hey, that Death Star cake featured on Boing Boing looks like stupid poo meat! This is an injustice. I deserve to be featured on Boing Boing. Yeah. I bet if I whine and plead enough, I can engineer my brother's birthday into an excuse to have my cake-artisan mom spend nine hours crafting a spectacular Star Wars cake, the likes of which have never been seen on the internet tubules! Then I'll blog it, make the front page of Digg, and become King of the Geeks for fifteen illustrious minutes! The glory will be mine! Mine! Bua! Bua! Bua-ha-ha-ha-ha!
Before you judge me, know that I did magnanimously allow my brother to enjoy a slice of his birthday cake. Once he had thoroughly documented it with his professional-grade camera for my blog. First thing's first, after all.
Kathryn operates at the other, far-distant end of the spectrum of cake-baking selflessness.
Six months ago, Kathryn's good friend Maara was diagnosed with an aggressive form of breast cancer. New Zealand doesn't fully fund the drug treatment Maara needed, so Kathryn started a blog to fundraise the $93,000 that would cover the remaining costs. Kathryn's idea to use her fantastic cakes as a fundraising tool helped the blog take off, and four months later they reached their target.
Maara is now receiving the life-saving treatment.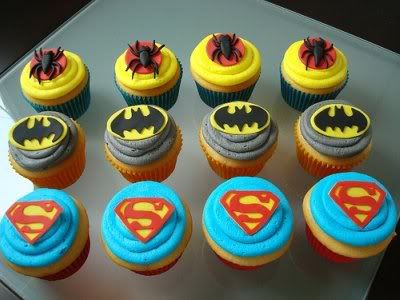 Cupcakes to match with fondant toppers.
I'm moved to the point that I'm not even tempted to poke fun at the completely unmanly stars (strongly reminiscent of Lynda Carter's Wonder Woman) protruding from the top of this otherwise-striking cake.
Kathryn, thanks for sharing the story and the photos. Cheers to you for your talents and your altruism. Please let Maara know that a small cadre of geeky souls in the U.S. is rooting for her speedy recovery.
Find Batman cake toppers on Ebay
Enjoy this post? Subscribe to Great White Snark by email or by RSS.