Meet Robert H., uber-geek and living tribute to two of my favorite geek icons, Batman and Buffy the Vampire Slayer.
Robert dropped me a note after my post in December profiling portrait tattoo super-artist Nikko Hurtado. Turns out that several of the stunning tattoos that I highlighted in that post decorate Robert's appendages.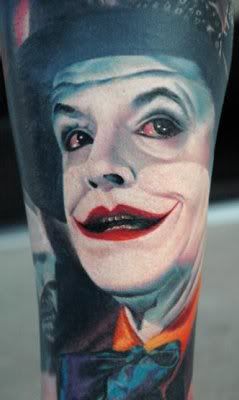 Check out the other sweet Batman tattoos here on Great White Snark.
After seeing the work that Nikko had done on some of his friends, Robert–who now lives in Los Angeles, about an-hour-and-a-half from Nikko's studio in Apple Valley–sought out Nikko to give Robert his first ink: a portrait of Axl Rose on his arm, followed by a portrait of Slash on his chest. After these first two pieces , a friendship developed:
I think we just had a lot in common, so he was always excited to do the pieces that I wanted.
Robert has been "huge into Batman" since he saw the original Tim Burton Batman movie when he was twelve. The movie even inspired a continuing, 18-year streak of comic book collecting (including every issue of Uncanny X-Men since 1988).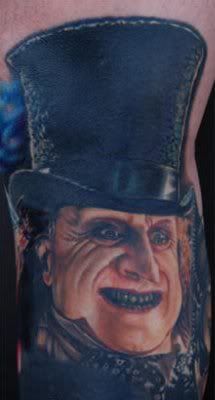 So, when Nikko was looking for inspiration for a "cool" tattoo to submit to a contest, Robert produced an image from a Batman Returns book. The subsequent Batman tattoo that Nikko created on Robert's leg was Nikko's first color portrait; now Nikko is world-renowned in tattooing circles for those portraits.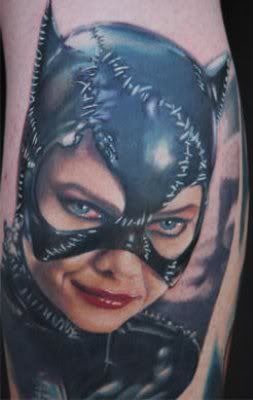 The guys still aren't done with that tattoo, either. It's been steadily evolving, and they intend to add the Batmobile and "maybe the Batwing."
Robert has seven tattoos, all done by Nikko. Following Batman came the Joker, Catwoman, and Peguin.
Most recently, they've added a portrait of Spike, which is the beginning of a "Buffy themed leg." Check out this video of actor James Marsters (who portrayed Spike on Buffy) getting blown away when he sees the tattoo at a convention. (E-mail subscribers and RSS readers, visit the post to see the video.)
Even more than Buffy or Batman, however, Robert is big-time into Star Wars. He plans for some Star Wars tats "somewhere down the line," and lives in a two-bedroom apartment just to accommodate his collection of Star Wars memorabilia. Not to start a nerd-fight with the toy collectors among you, but he claims the collection "blows people away." His favorite piece? A working replica lightsaber.
Thanks to Robert for sharing the pics and your story. I hope you'll keep us updated as the "Buffy leg" develops. In the meantime, readers, you can check out more of Nikko's work on his MySpace page.
Want to see more Batman tattoos and other geeky curiosities? Subscribe to Great White Snark by email or by RSS. It's free.