Cake artisan Jeff of the San Francisco Bay Area's Fabino offers this week's cake, a carefully-selected shout-out to this upcoming weekend's coverage of WonderCon on Great White Snark! Stay tuned!
(Wait… did you catch that? That was a plug. I didn't want you to miss it, since I couldn't figure out how to highlight it with a digital glitter pen. Ok. On with the cake.)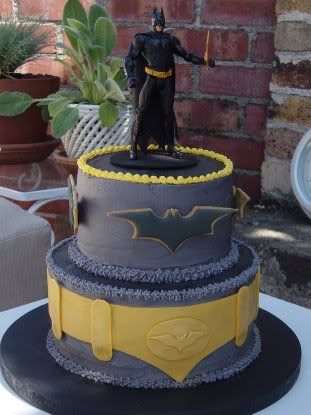 Buttercream icing covered this two-tiered vanilla confection. Jeff made the Batarang adornments out of sugar cookies and crafted the utility belt out of rolled fondant
The batman action figure on top is… a batman action figure. I usually try to have a little something extra on kids' cakes – a small toy or something that they can keep after the cake is eaten.
Replace "kids" with "30-year-old toy-collecting geeks," and you're speaking the language of a good number of readers of this blog, Jeff.
Jeff created the Batman cake for the 6th birthday of a pair of twins: a little boy and a little girl. Based on the themes that the family requested, here are the proposals that Jeff sketched out before he started baking: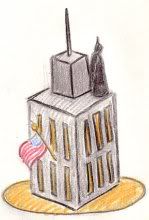 And for the little girl: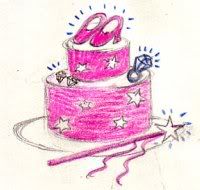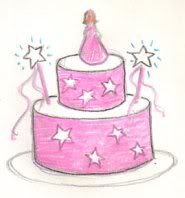 Look at that. If these cakes were robots, the Batman cake would be a Terminator and the princess cake would be an animatronic Chuck E. Cheese. And you know how that would end. With Chuck in traction, slurping down applesauce and other soft foods in a home for disabled kids show performers.
Thanks to Jeff for the pictures, the sketches, and the details. Click on the main photo above to visit the Flickr pool of Jeff's portfolio of work.
Find Batman cake toppers on Ebay
Enjoy this post? Subscribe to Great White Snark by email or by RSS.