WonderCon starts tomorrow, Friday, here in San Francisco and I'll be keeping you fed all weekend with recaps, scoops, and photos of costumed fanboys. And then more photos of costumed fanboys.

My planned itinerary, of course, is subject to my successfully navigating the hordes lining up to get into these events.
FRIDAY, FEBRUARY 22
…also known as, "The day I saw Kristen Bell in real life for the second time." I think it might be time to visit www.declare-your-own-national-holiday.com.
1:00-2:00 – Spotlight on Bill Willingham
I've heard great things about the Fables series, I just haven't had a chance to check them out. I visit with the writer/creator for a bit to learn more.
1:30-3:00 – Battlestar Galactica: Past, Present, and Future – Actor Richard Hatch
Sure, he'll be offering "special trailers" (from the upcoming season of BSG?), but I'm here for the Q&A. After Hatch's hilariously pervy performance last year, I know he won't disappoint.
4:00-5:00 – Spotlight on Darwyn Cooke
I figure since I'll be reviewing the animated film based on his work, Justice League: The New Frontier, I take the chance to get the know the guy.
5:15-6:15 – Universal: Forgetting Sarah Marshall and Wanted
Kristen Bell and the rest of the cast of her upcoming film Forgetting Sarah Marshall–including Jason Segel and Mila Kunis–enthrall me with their pretty, pretty words.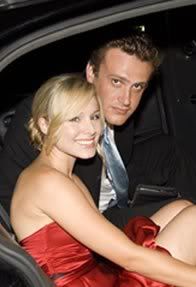 Then, actor James McAvoy appears to discuss Wanted. I pretend that I wouldn't be a lot more interested if his co-star Angelina Jolie were there.
6:15-7:00 – New Line Cinema: Journey to the Center of the Earth 3D
I assume that any project involving Brendan Fraser is crap-by-default. So, New Line's rolling him out to promote a film doesn't do it for me. But after seeing Beowulf in IMAX, I have faith in the power of 3D to make any film 47% better. We'll see.
10:00 – World Premiere Screening of footage from Journey to the Center of the Earth 3D
If the earlier presentation leaves me wanting more, I'll use the pass that New Line has sent me to catch some more 3D action in a proper movie theater in downtown San Francisco.
SATURDAY, FEBRUARY 23
The Hollywood marketing machine has my gluteus glued to a seat in the 6,500-seat Hall A of Moscone Center South for six full hours of geek movie madness.
12:00-1:00 – Warner Bros.: 10,000 B.C., Get Smart
I pass the time flipping off 10,000 B.C. director Roland Emmerich until Steve Carell and hottie Anne Hathaway arrive to plug Get Smart.
1:00-2:00 – Disney: The Chronicles of Narnia: Prince Caspian and WALL•E
Do I really need to see new, previously-unseen footage from these two films? Eh. Why not. Plus, keeping my seat will save me from standing in line for the next event…
2:00-3:15 – 20th Century Fox: The X-Files and Shutter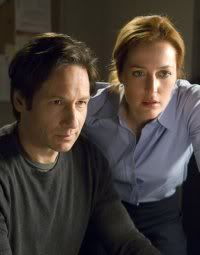 I try to work up the "care" to enjoy seeing David Duchovny and Gillian Anderson together for the first time since… the last time they were together. (Funny thing about WonderCon… the energy will undoubtedly overtake me and I'll be bouncing in my seat with the rest of the fanboys.)
3:15-4:00 – New Line Cinema: Harold & Kumar Escape from Guantanamo Bay
I count on star John Cho to entertain me (dance, monkey, dance!) as I stake out a spot for the main madhouse event, which will be…
4:00-5:00 – Paramount: Iron Man
Jon Favreau appears to "discuss" the film. Ten bucks says he'll also have exclusive footage and a special guest star or two. I just have a feeling.
5:00-6:00 – Inside Lucasfilm with Steve Sansweet
Lucasfilm's head of fan relations presents the year's upcoming slate of entertainment from the Star Wars universe, including the upcoming Clone Wars series. I wait for him to announce open-to-the-public tours of his ridiculous collection of Star Wars memorabilia.
SUNDAY, FEBRUARY 24
Today WonderCon faces imminent danger of my inner fanboy making a loud, giddy, demonstrative appearance.
1:00-2:30 – Jericho
I forgive Skeet "Jake Green" Ulrich for skipping the event because I still get Lennie James ("Robert Hawkins") and Brad Beyer ("Stanley Richmond"). I have difficultly containing my disappointment when no sinister characters from the town of New Bern get shot.
2:30-3:30 – Terminator: The Sarah Connor Chronicles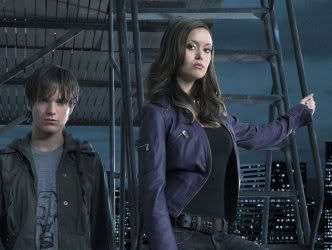 Summer Glau! Summer Glau! Summer Glau! Ok… I'm done. (Summer Glau!) Oh, and "David" from Beverly Hills, 90210 will be there. (River Tam!)
If you enjoyed this post, consider subscribing to Great White Snark by – or by RSS.