Good news for your cake purists: every bit of this week's Mr. Incredible cake is edible. Even his abnormally-sized and -shaped head, which cake artisan Stephanie molded entirely out of sugar paste.
So go ahead and take a chomp out of that huge melon. Assuming you're looking for a head-pounding bitch of a sugar rush.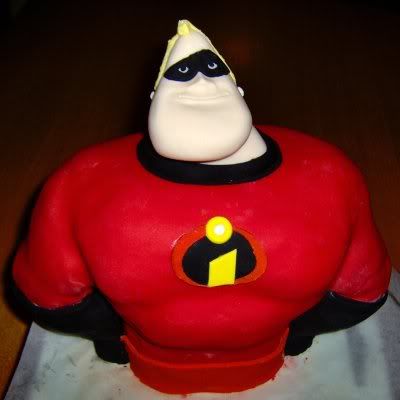 Stephanie crafted the rest of Mr. Incredible out of vanilla sponge "filled with layers of creamy vanilla icing with raspberry ripple" and a vanilla sugar paste covering.
Her family loves The Incredibles, so she made this cake for her brother for his 40th birthday. Apparently her brother even bears a resemblance to Mr. Incredible. I just wonder if the resemblance starts in the chin area. That thing's a beast.
Stephanie has developed her cake-making hobby into a part-time business. Click on the photo above to see her cake portfolio in her Flickr set.
Thanks for the goods, Stephanie!
Enjoy this post? Subscribe to Great White Snark by email or by RSS.