I'm almost afraid to ask Robert where he stuck this one, considering he's already dedicated his torso to Slash of Guns 'n Roses and all of his limbs to Batman tattoos and Buffy tattoos.
Best left to our imagination, methinks.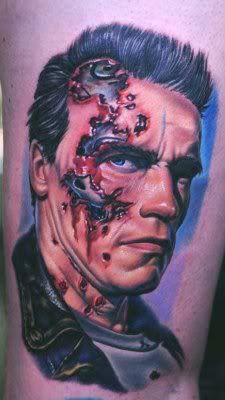 But if I had to put the visage of a bullet-riddled cybernetic organism anywhere… it would be right on the palm of my hand. That way, anybody getting my karate-stylin' palm strike to the face would get a horrifying glimpse of the future before experiencing their own horrifying trip to the future.
Yeah. That's poetic justice, people. Or irony. I don't remember, exactly. But certainly we can agree it's awesome enough to deserve a term in a 10th-grade literature textbook.
Enjoy this post? Subscribe to Great White Snark by email or by RSS.