Three reasons to be at Isotope Comics here in San Francisco from 8p – 11p this Saturday, March 22: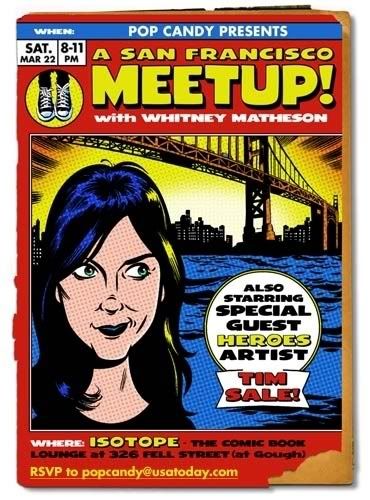 1) Rub shoulders with all-famousy-like comic book artist Tim Sale.  You might know him as the dude who created all the prophetic paintings on TV's Heroes.  Yeah.  That guy.  Oh, and P.S.: He'll be bringing Heroes art with him.
2) Glean some geeky news gems from pop culture goddess Whitney Matheson of USA Today's Pop Candy blog.  (It's in my feed reader, people.  It should be in yours.)
3) Bask in the contagiously-energetic glow of six-foot-something-tall James Sime, proprietor of one of the swankiest comic book stores you'll ever beholdify.  Isotope Comics brings the trendy (but not too trendy) art gallery experience to the coolest medium there is.
No RSVP necessary, but it will get you priority entrance and a limited-edition Pop Candy "souvenir."  Rock on.  Click the flyer for more details.