Personally, when I look at a simple-yet-elegant Grand Marnier flourless chocolate truffle cake, I don't usually think, "Hey, you know what this pristine layer of liqueur-flavored frosting needs? Some rotting fingers sticking out of it."
Thankfully, Canadian artisan Candy doesn't suffer from my hobbling lack of vision.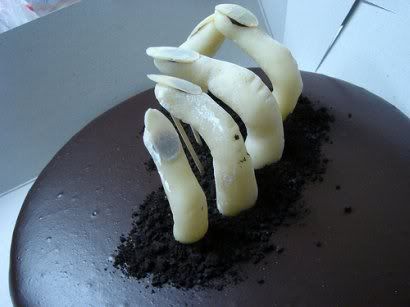 Candy created this piece "for a casual gathering" before Halloween. She wanted a "simple but effective way to jazz up" this elegant–but otherwise plain–cake.
Marzipan is a great tool for beginner cake decorator because it's like pre-packaged edible playdoh that tastes awesome. The pale colour also makes it resemble colour of undead flesh so no tinting necessary!
What a coincidence… I know from very recent experience (no, really) that actual Play-Doh tastes like undead flesh. You can thank me later for saving you the effort of trying that little experiment on your own time.
To adhere the sliced almond finger nails to each finger, I chose to use thick sticky fudge sauce. The brown colour shows through the "fingernails" which to me looks like congealed blood.
Perhaps you've merely hypnotized me with your fancy way of spelling "colour," Candy, but you make "brown" and "congealed blood" sound pretty damn tasty.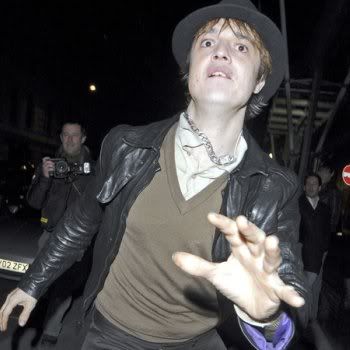 Those fingers look familiar? Singer Pete Doherty, living inspiration for zombie cakes everywhere. (Photo: Bauer-Griffin)
Thanks to Candy for the details, including the original recipe, which you can check out on her dessert blog.
Enjoy this post? Subscribe to Great White Snark by email or by RSS.