San Francisco Chronicle cartoonist and ballyhooed Great White Snark contributor Michael Capozzola has brought a great (read: geeky, fun, good bang-for-the-buck) event to my A.D.D.-addled attention.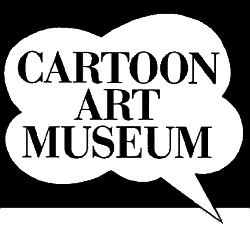 On Thursday, April 10th, from 7pm until 10pm, San Francisco's Cartoon Art Museum will host Comics 4 Comix, an event benefiting the museum:
Join the Bay Area's funniest folk for a night of food, drink, and entertainment, and bid on original comic strip art from popular local and national cartoonists.

The Cartoon Art Museum will host an all-star cast of stand-up comics for this event, with performances starting at 8pm. Hilarity is bound to ensue as the evening offers a variety of stand-up comedians, featuring headliner Robert Mac (coming soon to Late Night with David Letterman) with special guests George Corrigan, returning favorite Mark Silverman, funny lady Erikka Innes, and host Michael Capozzola.

Patrons can look forward to sampling noshes from California Pizza Kitchen, Café Madeleine, Arizmendi Bakery, Whole Foods Markets SOMA, and beverages compliments of Schmaltz Brewery, True Sake, Kutch Wines and more.
Food, laughter, and comics, people. That's what life should be all about. And did I mention you'll see me there? Compelling, I know.
The Cartoon Art Museum was founded in 1987 with an endowment from "Peanuts" creator Charles M. Schulz. The Cartoon Art Museum is the only museum in the western United States dedicated to the preservation and exhibition of cartoon art in all its forms. This unique institution houses approximately 6,000 original pieces in its permanent collection.
Tickets can be purchased for $25 in advance at the museum, via telephone 415-227-8666 ext. 300, or at the door on the night of the event.