I'm not a fan of events that attract big, shuffling, crowded groups of people.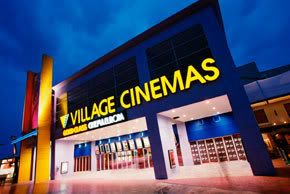 First, there's invariably a handful of mouth-breathing knuckle-draggers amongst the bunch, and it only takes a couple of those to ruin the party for everyone. You know the ones I mean. The belligerent drunk in the stands behind you at the game. Mr. Cell Phone Talker at the movie theater. The portly dude at the comic book convention who reeks of sweaty monkfish.
Second, you never hear about anyone getting trampled by an "angry mob of two or three people," now, do you?
That's why–as often as I can–I try to avoid Redskins games, Oakland Raiders games, airports, commercial airlines, post-World Cup soccer riots, other kinds of riots, bread lines, and boating and RV conventions.
But the prospect mostly likely to make me cringe with disdain is dealing with the crowds at the local multiplex on the opening night of a movie. I'd rather let the Oakland Raiders put me in a rioting bread line on a commercial airline flight in the middle of an RV convention.
Enter Australian "entertainment conglomerate" Village Roadshow, who is leading a joint venture to spend $200 million over the next five years building fifty luxury "Gold Class Cinemas" around the U.S. (First one opens in Chicago this year.)
For $35 per movie ticket, the Gold Class theater experience includes plush reserved seating, special parking privileges, a lounge and bar serving cocktails and appetizers, a concierge service, seat-side waiter service, upscale made-to-order meals like sushi from on-site chefs (for an extra charge), and enthusiastic, lubricated handjobs.
(Ok, so no handjobs… but tell me that wouldn't make a night out at the movies just perfect.)
Here's the best part, from an article in Variety:
Each complex will sport theaters featuring 40 reclining armchair seats with footrests, digital projection and the capability to screen 2-D and 3-D movies.
Forty reclining armchairs per theater. That's practically an intimate gathering. If I actually spent $35 on anything these days, I'd feel pretty good about a trip to Gold Class. Even if it does sound like a strip club.
The right sort of charm and amenities can clearly get people excited about the movie-going experience. But is $35 worth it? What say you, good people?
[poll=13]