Scott Monty (no, he's not a game show host) floated a pretty clever idea for a meme1 inspired by two of my favorite things: Jeezus and Twitter. (Amen.)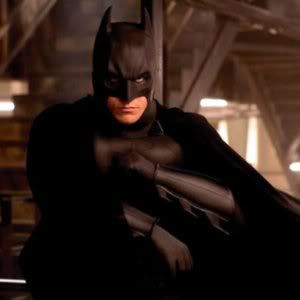 If you're unfamiliar with Twitter, it's a service that allows you to publicly notify your friends and contacts of your daily activities and thoughts in 140-character-or-less updates from your phone, computer, or the Web. Which is ridiculous in theory but addictive in practice.
According to Scott's idea, you remix Twitter with the classic adage, "What would Jesus do?" (answer: find some disinfectant for those nasty crucification wounds), and throw in your favorite celebrity. Or, "celebritard," in the case of Paris Hilton or any of the dopes from that Project Runway show you love talking about with your girlfriends.
Hence: "What would Batman Twitter?" Please to be enjoying.
there is nothing like the feel of a properly-fitted codpiece
@robin happy 28th birthday. can we stop calling you "the boy wonder" now?
sometimes i wish alfred didn't know my secret identity. then i could hire a better cook.
joker just escaped again. is it just me, or is the security at arkham asylum really lax?
listening to: Dido. mood: brooding.
@commishgordon just saw the batsignal again. do i need to remind you of my cell number?
has anyone seen where i parked the batmobile? homing device must be low on batteries.
at the monthly status meeting of the justice league. lordy, clark can talk. i need some bat-tylenol.
@catwoman you left some earrings here last night. and your whip. oh, and leash.
random thought: that millionaire playboy bruce wayne guy is one good-looking dude.
1For those of you who live in the "real world," i.e., not trapped in the wildly insular bubble of Silicon Valley: a meme is "an idea, project, statement or even a question that is posted by one blog and responded to by other blogs."
If you enjoyed this post, consider subscribing to Great White Snark by email or by RSS. It's free!