The amount of stuff I know about Dragonball Z could barely fill the cup that Lindsay Lohan pees into at her court-mandated drug screenings.
It's an anime series popular among people who are not personally known by me.
It's the new Pokemon. That is, I don't get it, but it seems really annoying.
The majority of characters have huge, pointy, shocks of hair and unnaturally-expressive faces. (See #2.)
In IGN's words, the live-action movie adaptation currently in production has been "long-awaited."
Then there's the corollary to #4: IGN occasionally says stupid, stupid things.
Of course, the production team at 20th Century Fox has already cast the film. But they've foolishly hired actors who will need things like custom-made wigs and classes in obnoxious facial distortion to properly fill their roles.
That seems like a pointless exercise when there are plenty of actual human cartoons walking around who wouldn't require all that extra money spent on make-up and lessons in avid douchebaggery.
5) That guy from Reaper
He's frequently been described (sometimes unfavorably) as a young Jack Black. So you tell me: is he animated enough for the job?
(Stop blankly staring at me like that. It's so hard for me not to judge you when you do that. The answer is "yes.")
4) The dude from District B13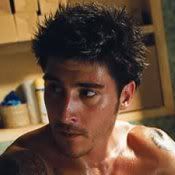 He's got the hair, the 'tude, and the martial artistry. Unfortunately, however, he's also got a French passport, which means that–thanks to the dollar's weakness against the Euro–it'd probably be cheaper to hire 500 Mexican wrestlers in Don King wigs for the part.
3) Yahoo Serious
Give Young Einstein a job, already. Seriously. If he's left to his own devices for too long, he does things like build one of the ugliest personal Web sites, ever.
2) Ace Ventura
Did someone order a dish of facial contortion with a side of ridiculous hair?
Just think of the delightful, hammy times we'll have when someone punches Ace in the dragonballz. Physical humor at its finest, people!
I mean, not just anyone can bend over and talk out of their ass.1
1) Vanilla Ice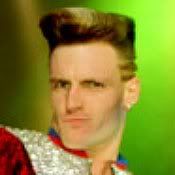 Ice will stop what he's doing and collaborate (and listen!) on your production under one condition: You must refer to him as "metal hip hop artist, Vanilla Ice" and not as "former early-90s rap sensation" or "frequent reality-TV-show participant" or "failed actor who debuted as himself in Teenage Mutant Ninja Turtles II" or "the guy who got his ass beat in Celebrity Boxing by Todd Bridges."
1 Unless, of course, your name is Uwe Boll.
If you enjoyed this post, consider subscribing to Great White Snark by email or by RSS. It's free!